Happy Monday, friends!  While I'm sunning myself and enjoying my husband's company, I'm so happy that a wonderful blogger is here to keep you company!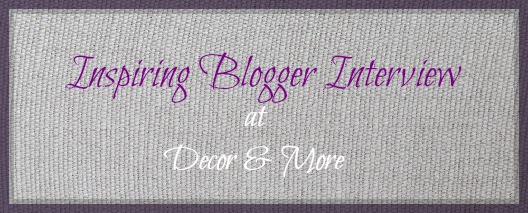 I've been bloggy friends with Megan for a over a year and I love her thrifty ways, her incredible printables, and her sweet family that is going from 4 to 5 in a matter of weeks!  Yikes — I don't know how she does it all.  But she's here to share her thoughts and hopefully inspire a few of you, too.  Welcome Megan from Balancing Home!!
***
• How did you get started blogging?
I have been a long time blog reader. Then one day, shortly after giving birth to my second child, I decided to start a blog myself. It was completely on a whim. I decided it and launched it all in one day. Must have been the hormones and an attempt at carving out an identity for myself outside of stay-at-home-mom. I had no idea what I was doing, but I am so glad I took the leap. Blogging has been a terrific outlet for me. I have met so many incredible people through blogging, worked with some amazing companies/brands, managed to contribute to my family's income and it definitely motivates me to get things done.
• Tell us a little bit about your home. (how long you've lived there, how you found it, any interesting tid bits)
My home is a brick home built in 1939. My husband and I bought a year after we were married. The first time I looked at it I was all, "We can knock this wall down. Tear out this. Replace that." My husband probably thought I was crazy. I really wanted an open floor plan, but most houses with such a floor plan were out of our price range. I figured if I found a house with good bones, I could make it what I want. That is exactly what we did. We bought this house in fall of 2007 and we have slowly turned it into a home that reflects us. In just 6 weeks we will have finally filled all four bedrooms.

• How would you describe your home décor style?
This is tough for me. I try to create a home that speaks to me and my family. Walls and couch are neutral with pops of color. It is eclectic, fun and family friendly. There are lots of photos and colorful art made by my husband, a graphic designer.
• What inspires your style and projects around the home?
My style and projects are often inspired by necessity, budget, and materials. For example, I knew I wanted a bold pattern on my curtains. The budget didn't allow for buying fabric or drapes, so I painted them.

• Do you have a favorite DIY project?
Right now I am really crushing on my daughter's room. She got kicked out of the nursery (baby #3 due in 6 weeks) and moved to a big girl room upstairs. The room isn't completely finished, but I love how it is turning out. Her reading nook is one of my favorite projects.

• What is your secret DIY weapon?
Paint, Mod Podge, and a glue gun. You can do just about anything with those three things.
• Any DIY fails?
Yes. I attempted to create the look of lightning bugs in a mason jar with glow in the dark Mod Podge. When my husband came home, he said it looked like an alien either threw up or blew his nose in the jar. Definitely a fail.
• What is your favorite shopping source for home décor?
I love Target and TJ Maxx. I pick up a thing here or a thing there and always for a great price. Target clearance is incredibly addicting.
• What is your favorite space in your home? (please share a photo!)
My favorite space in our home is kind of three spaces, but it is open so it feels like one big space. It is where we live. Cook, gather, eat dinners, play board games, snuggle for movie night. It isn't exactly out of a magazine, but it reflects my family and where we are right now. There is no coffee table, beautifully staged, because I have little ones who need space to play and wrestle. There is more toy storage that tucked in that living room than I care to admit.

• What is one piece of advice you would share for those on the journey of making a house into a home?
Don't feel like it all happens in a day or that you need to know exactly what the finished project will look like. Making a house a home takes time. It is a piece here and a piece there. Stay neutral on things you cannot change, like your couch. Have fun with pillows, drapes and accessories. Enjoy the process.
***
Isn't she something? Told you would be inspired!  Her stencil drapes were the inspiration for my own dining room drapes and her little girl's room has me itching to decorate for a little one.  It would have to be someone else's little one, though. 🙂
Thanks so much, Megan, for taking time out of your busy schedule/nesting to share with us! Can't wait to welcome that precious new baby!  I would love it if you'd stop by Megan's blog and tell her you met her here.  Enjoy the day everyone… I'll be reapplying my sunscreen now. 🙂