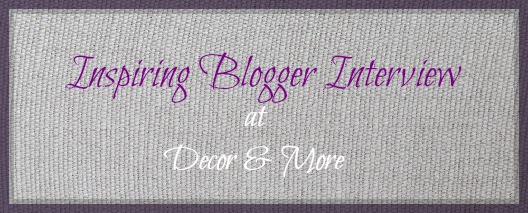 Hi there!!  I'm super excited to bring you my latest Inspiring Blogger Interview and today Michelle from Ten June Blog is joining us!  I've been following Michelle's blog for a couple of years now and had the privilege of meeting her at Haven last June!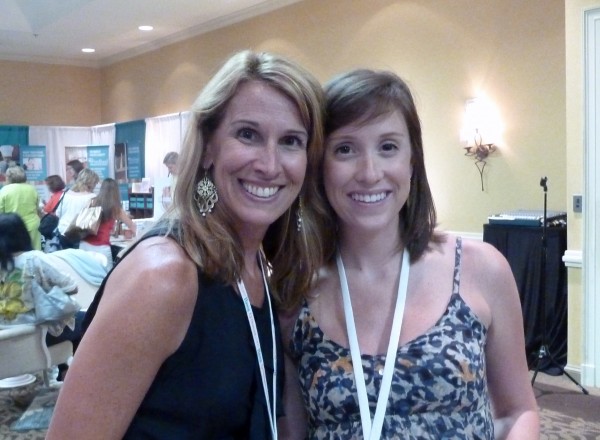 I felt like a stalker asking her to take a photo with me, but I'm a huge fan of her easy going writing style and her gorgeously calm designs.  She had me at "hello" with her home office stripes!!
See what I mean??
Michelle just had her first baby recently and was kind enough to squeeze this into her busy Mama schedule.  So here she is!!
***
1.     How did you get started blogging? A friend of mine introduced me to Young House Love when she modeled her backyard wedding after the Petersik's wedding. It was love at first sight… with YHL and blogging in general! Once my hubs and I moved to our current home, I decided to start a blog of my own to keep up with our renovations to share with friends and family. The rest is history!
2.   Tell us a little bit about your home. (how long you've lived there, how you found it, any interesting tid bits) I live in a 1952 ranch outside of Atlanta, Georgia. We moved here in April of 2010 to be closer to my husband's job and have loved it ever since! We've remodeled and renovated many parts of the home, including the master bathroom, a sunroom, the basement, a guest bathroom… well, most of the house! : )

3.   How would you describe your home décor style? That's a tough one! I'd say "young traditional" with rustic French undertones. Now that's a mouthful.
4.   What inspires your style and projects around the home? Lately, my style has become a lot more relaxed since we introduced a new face in our house- our eight week old son! We actually moved our main living space in the house from the living room to a large sunroom so that we have more space to store our little man's toys and gear. My style is constantly evolving!

5.    Do you have a favorite DIY project? That's a tough one. I'd say our bathroom makeover and, in particular, the custom bathroom vanity I made. We walk in there with big smiles every day- it's beautiful!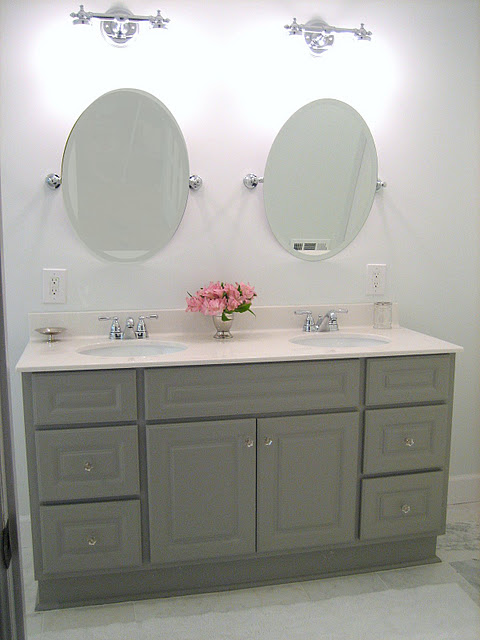 6.   What is your secret DIY weapon? Being bold. My motto is go big or go home! Even if I'm nervous to try a project, I go for it. You won't know unless you try, right?! Also, Mod Podge. It works for everything. : )

7.    Any DIY fails? All the time. I've actually got a shelf in my basement for crappy projects that I don't have the heart to throw away! It happens to the best of us.

8.   What is your favorite shopping source for home décor? Logistically, Target and Home Goods are easiest to shop from because they're cheap and in my city. I also love West Elm, Pottery Barn and Land of Nod for the kiddos.

9.   What is your favorite space in your home?  I would have to say the sunroom we just made over that I mentioned above. I spend most of my days in this sun-filled room, hanging out with my baby… it's such a special place!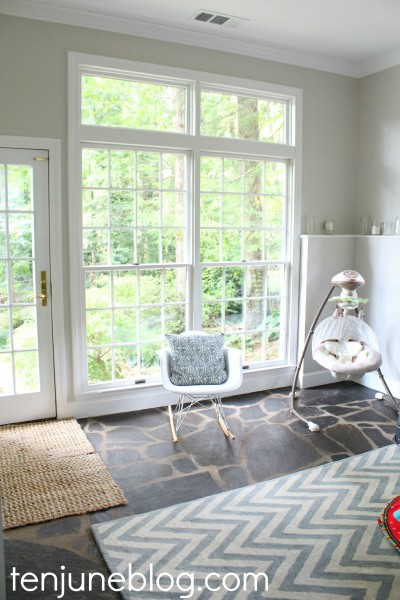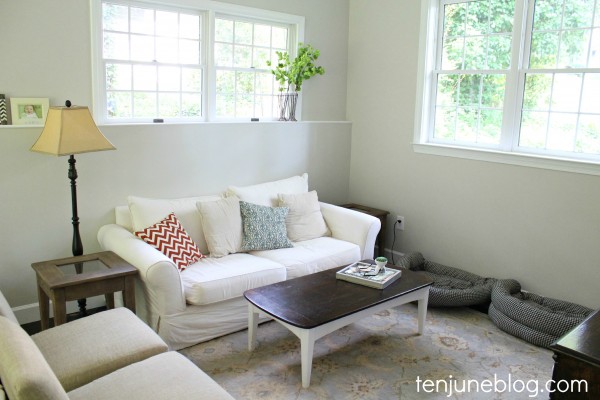 10.    What is one piece of advice you would share for those on the journey of making a house into a home? Take your time! Rome wasn't built in a day and your home shouldn't be decorated in a day either. My favorite rooms in my house are the ones I let evolve naturally, instead of the rooms I force to "finish."
***
Don't you love her??  You can follow along with all her DIYs, decorating adventures, and new role as a mom over at Ten June blog.  Be sure to check out her House Tour page… some amazing transformations there that are sure to inspire you!
Thanks, Michelle, for joining us and sharing today!!
Happy Halloween, friends… hoping your evening is full of tricks, treats, and a whole lotta fun!