Wednesday!  We've been in the deep freeze here in Georgia with some snow and ice predicted for later today.  It is January after all! So I've had the fire lit and I've been working away on Legacy and getting my family room ship shape.  Well, friends, you know that one thing usually leads to another!  And so now that the family room refresh is under way it's on.  I'm on a tight budget but I knew I wanted a small ottoman to accompany these new chairs…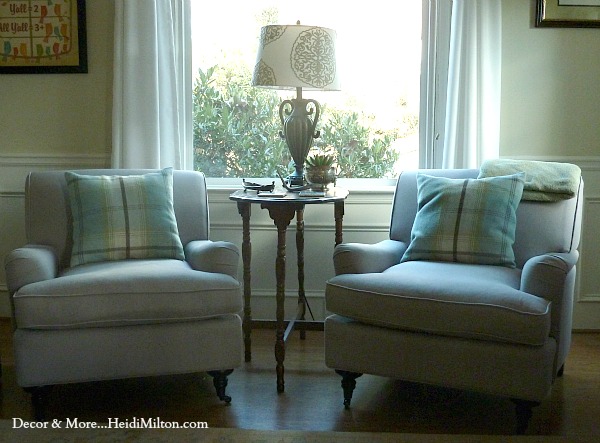 When the club chairs were in here, I had a good sized brown leather storage ottoman in front of "my" chair.  Of course it always ended up stacked with my laptop, the newspaper, my calendar, etc.  These chairs call for something smaller and I'm over the dark brown.  So when I spotted this little girl, I was smitten.
While it was reasonably priced, I just couldn't quite pull the trigger when I first found it.  And of course, when I went back to it, it was sold out!  So I started searching a few other sites and found one that was similar and slightly more expensive.  Still couldn't do it.
But this little girl just wouldn't leave me… even on Pinterest I was seeing flotaki benches, rugs, pillows everywhere!  So last week, I popped back over to Joss & Main just to see and there she was!  For $10 less than before!  Of course I jumped on it… and now she's on her way.   The big takeaway here is that they are good about restocking, so it pays to check back if the item you want has sold out!  You might even get a price break. 🙂
Just another piece to the puzzle… more to come!  I've been shopping my house. 🙂
Have a great Wednesday, y'all!