I haven't had many projects to share lately, but I have made lots of incremental progress on a few rooms in the house.  My Mom Cave is truly an evolution of a space, more than a year in the works.  Am I patient or what?? 🙂
Getting the paint done was huge progress.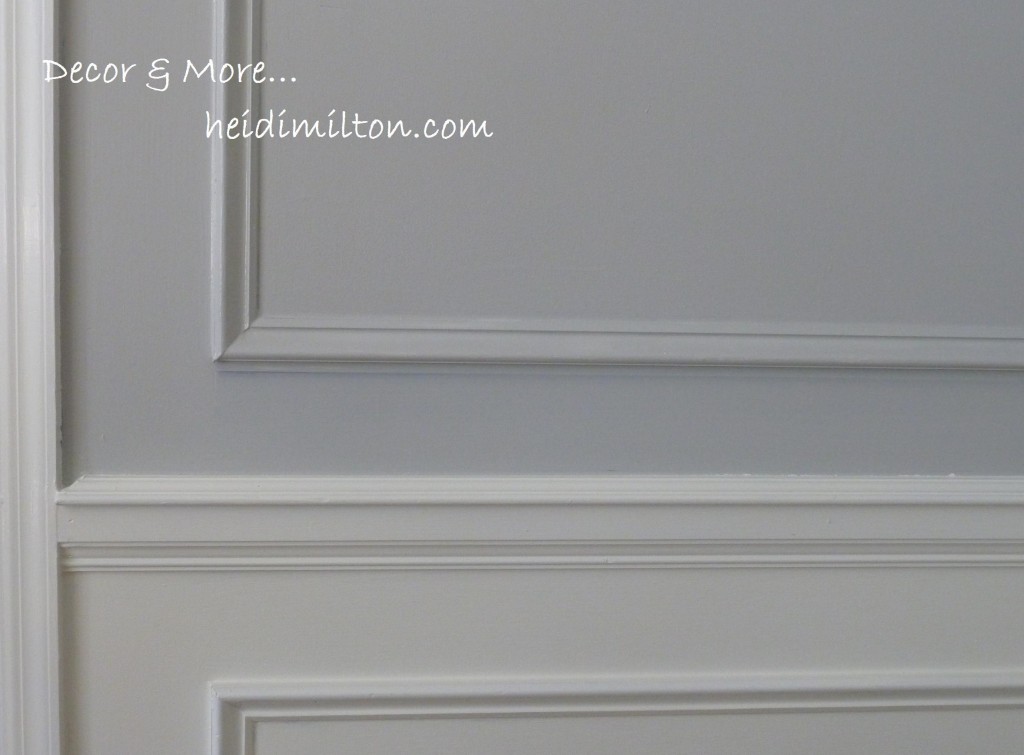 And very time consuming.  But I love it more every day.  The gray is Behr Silver Sateen, the cream is Porter Velvet White.
Then I hung Inslee's art work…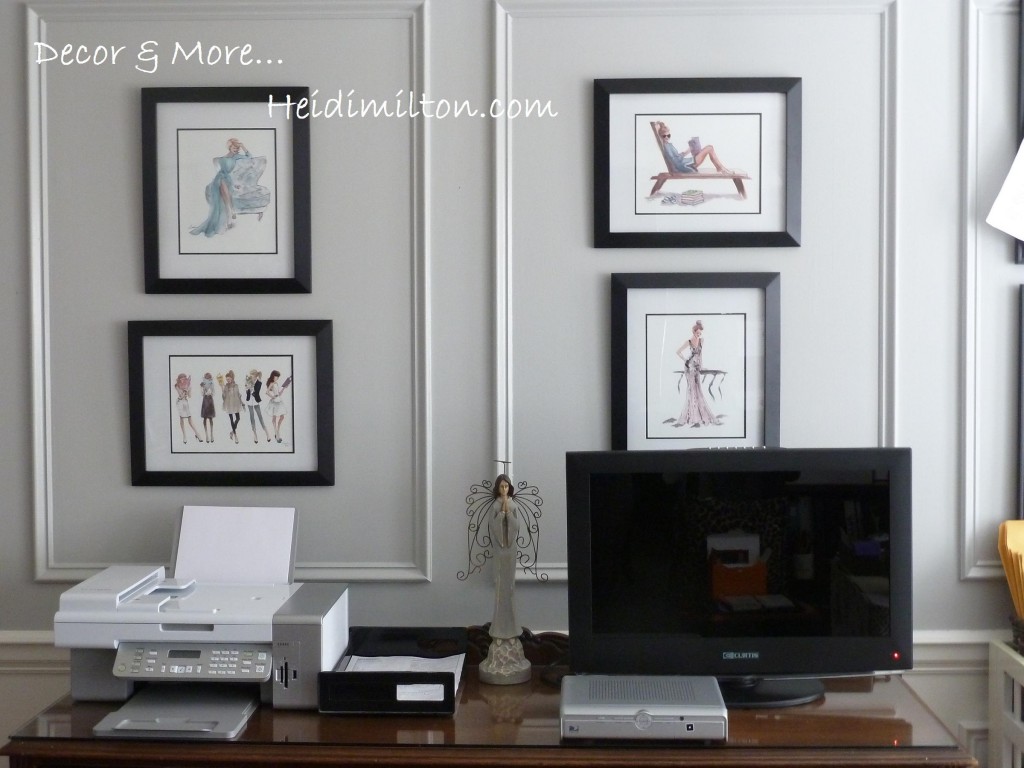 And got my bookshelves rocking…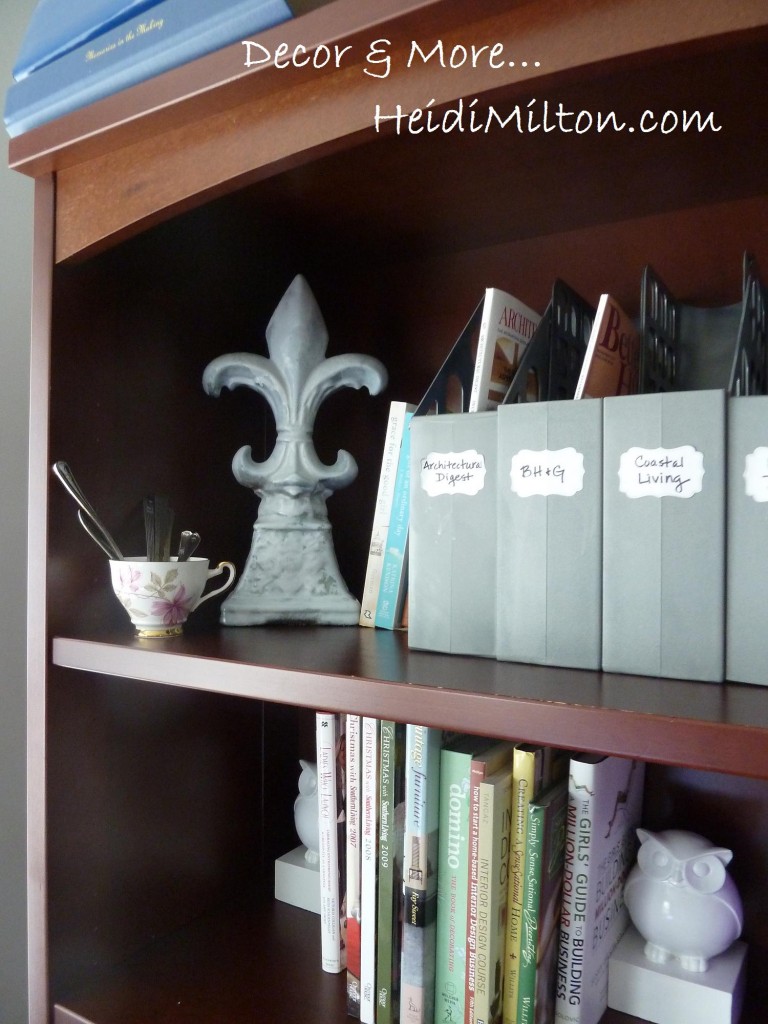 Since then I've done a little rearranging to help with the flow, since this room is truthfully used by EVERYONE in the house (yes, I have to allow boys in my Mom Cave).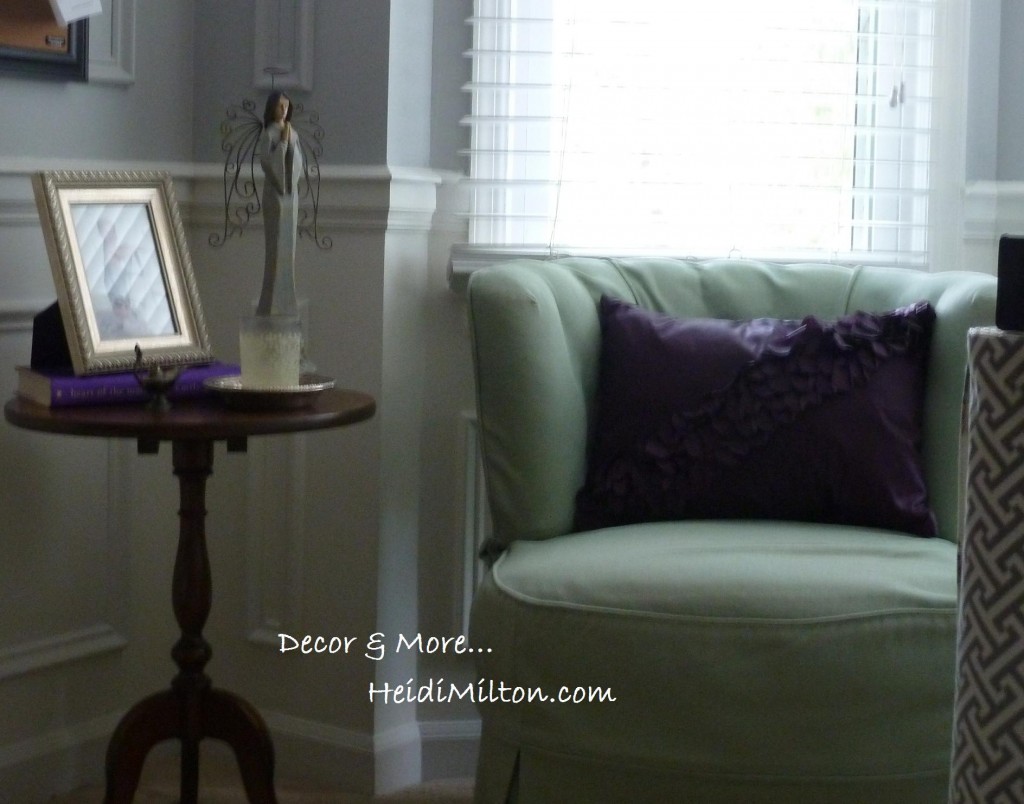 This sunny corner has become one of my favorites.  The little green slipper chair belonged to my grandmother and I updated it with a  dark purple ruffle pillow from Target.  The pecan tilt top table was also my grandmothers and fits perfectly into this space.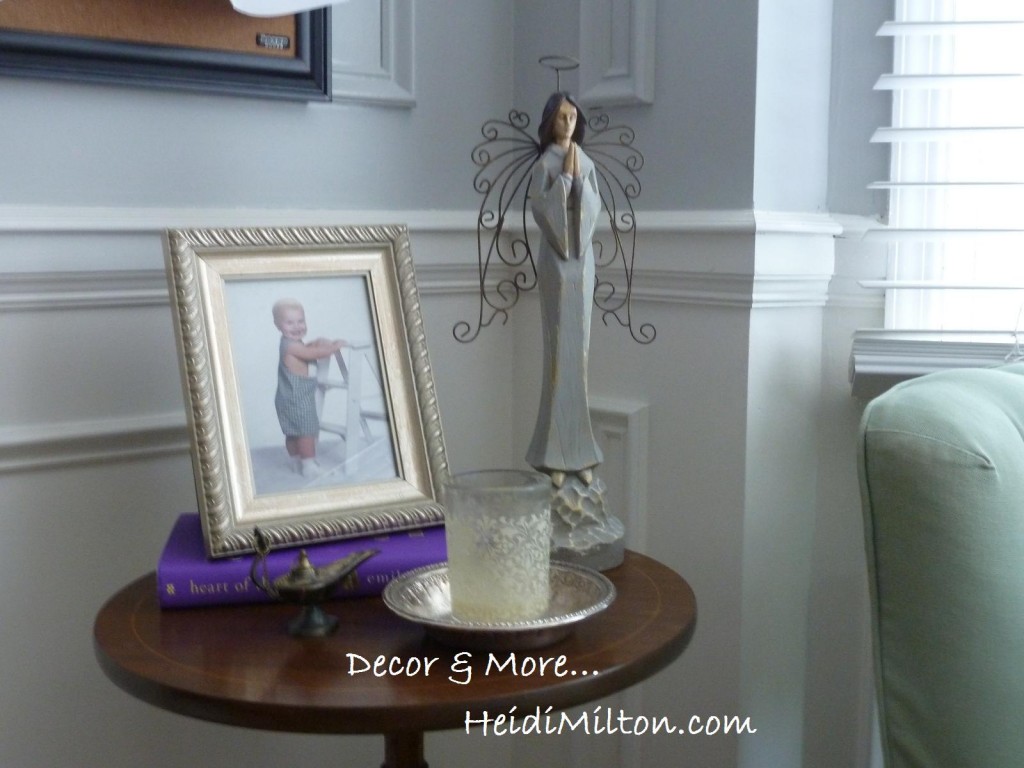 It's a beautiful piece.  Perfect home for my Willow House Santos Angel, my autographed copy of Emily Giffin's Heart of the Matter (have you read it??  Add it to your list this summer…).  The hotel silver bon bon bowl was a birthday gift from my sister and the little Aladdin's lamp is a keepsake from my stepson's trip to Dubai.  I mixed a lot of metallic finishes here, but I the gleam works.
I tackled my bulletin boards as well…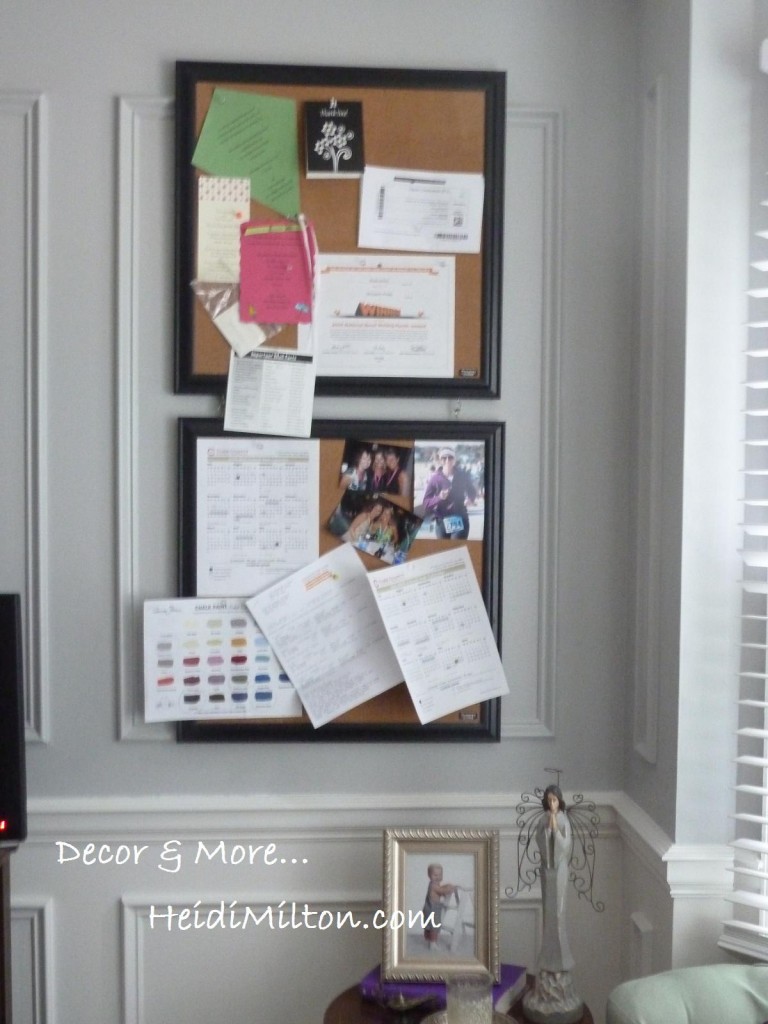 The goal here is keeping them relevant to my day to day and functional without looking cluttered.  Wish me luck! 🙂
I've also added another chair in here for the TV watching that inevitably happens.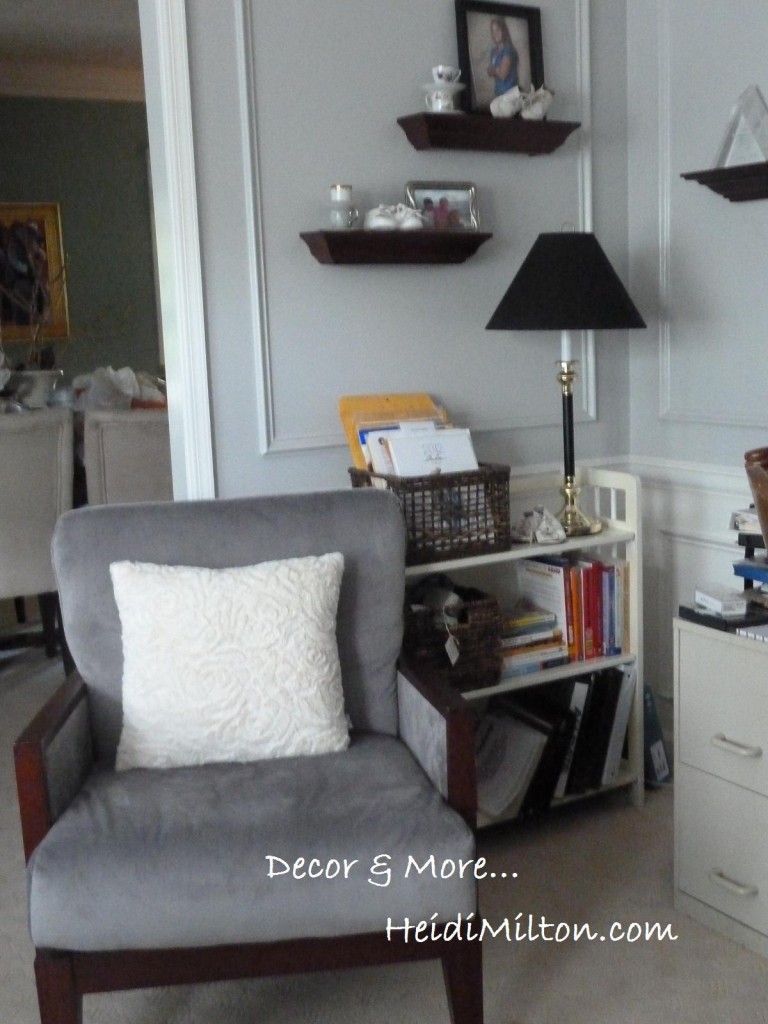 It was tricky finding one that was affordable and the right scale for the space.  I landed on this one from Target and though I don't LOVE it, it looks nice and is pretty comfortable for camping out in once in a while.  And it was affordable. The small bookcase is more necessary storage since this is a shared space.  It was actually my college bookcase with a coat of Velvet White.  Amazing how long some pieces can last!  The lamp is due for a makeover though.  This file cabinet is the hubs and I hate it, so it's looking at a coat of paint, too.  Probably a glossy gray or black.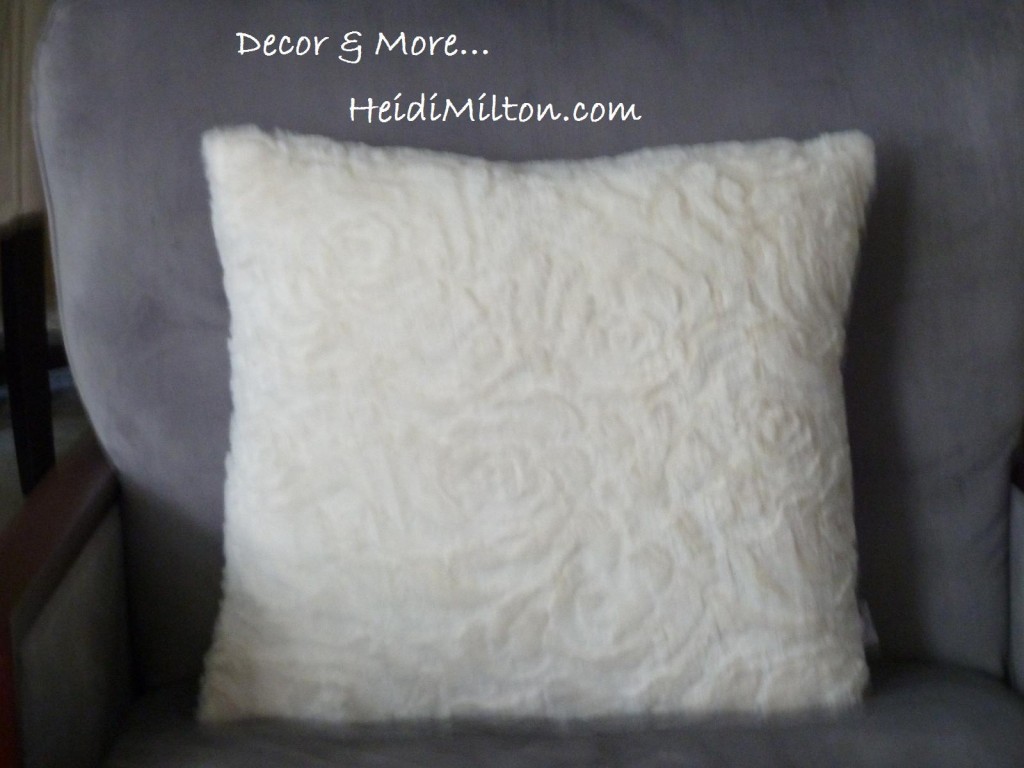 And I just scored this ivory plush pillow from Joss and Main!  I love how it dresses up the chair.  Have you discovered Joss and Main, yet? One of my favorite flash sale sites for decor and all things home.  Join by clicking HERE.
So, things left to do in here (because I love a to-do list!):
paint the hubs' file cabinet.
desk chair for the hubs (either paint existing or find a new one).
revamp the black lamp.
small ottoman or pouf for the arm chair.
finalize shelves and organization.
window treatments?  Y'all will have to help me out with that one. 🙂
It's getting there!  What projects are you in process on???