Dearest friends, thank you so much for your prayers on Friday for the sentencing… the judge handed down 20 years with 7 years of probation for which we are all so thankful.  He is also required to make a $100 donation to a charity each year on Kaely's birthday, and the fact that he will have to think of her at least one time every year is gratifying in some way.   Kaely's family and friends are glad to have this part of our healing behind us so the work of honoring her can continue without the specter of the trial hanging over us all.
I had a busy weekend of painting and rethinking my family room!  Ah, the new paint color is delicious!!  I have yet to hang any art work back on the walls as I'm going to mix it up a bit (fun!) but stay tuned for the full reveal soon!  Today I'm sharing one of my favorite summer recipes — a simple pasta salad that is the perfect side or main dish on a hot summer day.
I seriously make this about once a week!
Here's what you need:
box of bowtie pasta, cooked and drained
1 cup frozen peas, thawed
1 large tomato, chopped
1/2 cup chopped sweet onion
balsamic vinagrette salad dressing
Mrs. Dash seasoning
optional: feta cheese, crumbled bacon, shredded carrots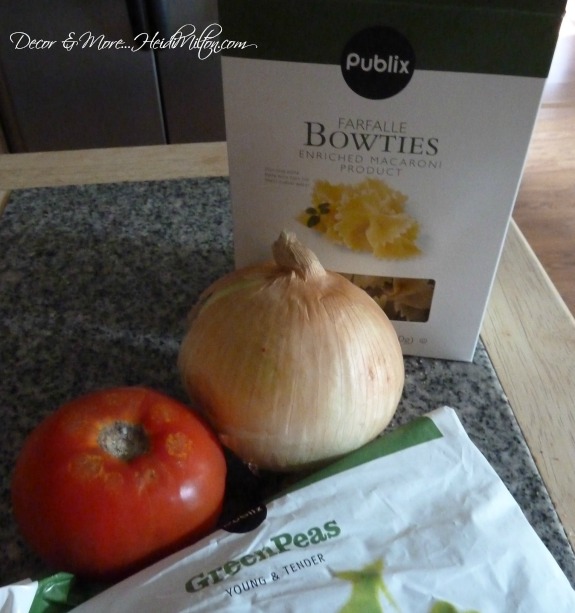 Here's what you do:
Cook pasta and drain over peas to complete the thawing process.  Rinse pasta and peas briefly with cool water.  Let drain thoroughly and then combine with chopped tomato and onion into large bowl.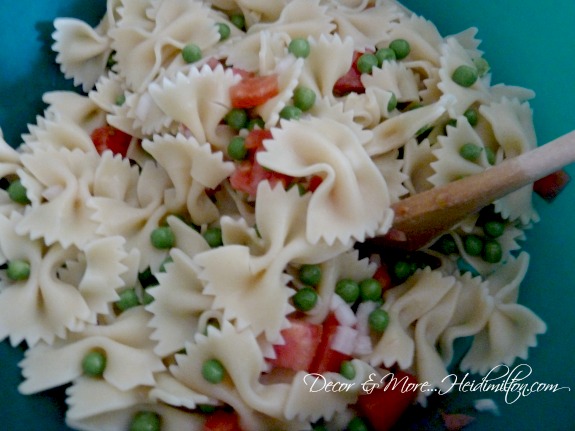 Drizzle balsamic dressing over pasta combination and toss, coating ingredients liberally.  Then… my secret ingredient…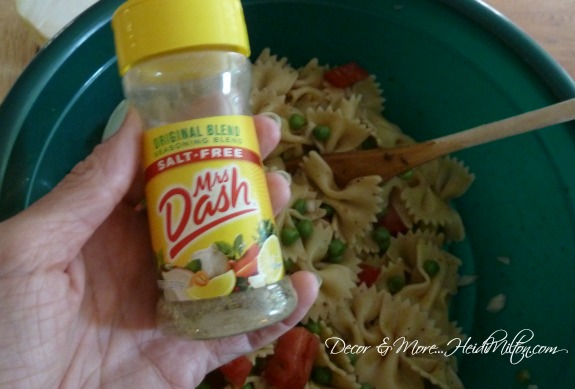 It's amazing the dimension of flavor this little gem adds!!  Sprinkle generously and then toss some more.  Cover and refrigerate for at least two hours.  Serve it up with or without the optional toppings!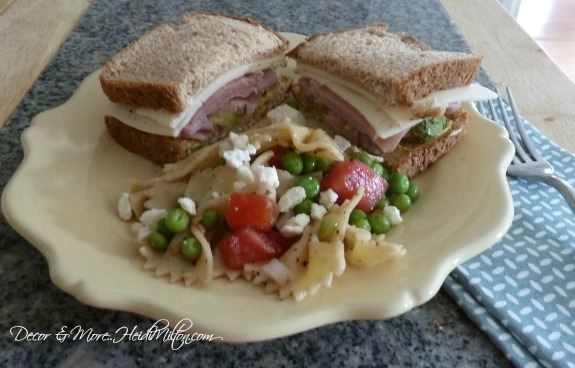 I love being able to pull this out a side to whatever we've thrown on the grill, or put on a bed of greens for a light lunch.
What's your "go to" summer time recipe??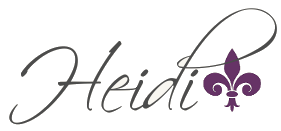 Pin It
&copy Copyright 2014
Heidi
, All rights Reserved. Written For:
Decor & More