Are y'all running like me?  I don't know why I'm surprised every year by how busy we get once Halloween is in our rear view mirror.  Maybe I block it out so that as November approaches I'm not paralyzed by angst about getting it all done.  Thank you, Lord, for that! 🙂
Anyhow, I have to admit I come up short in the meal department during the great build up to Thanksgiving Day as I'm furiously making lists, beginning Christmas prep in the midst of Thanksgiving prep, tackling holiday projects at school and at home, and this year traveling. 
Y'all.  Not sure what I was thinking, but I'll only be home one weekend this month.  Yikes!
So today, I'm sharing with an easy chicken soup recipe that helps me through busy evenings when meat-and-potatoes aren't going to happen.  This freezes well, and is awesome paired with grilled cheese sandwiches, bread, or a simple green salad.  And it all begins with a rotisserie chicken from your local deli.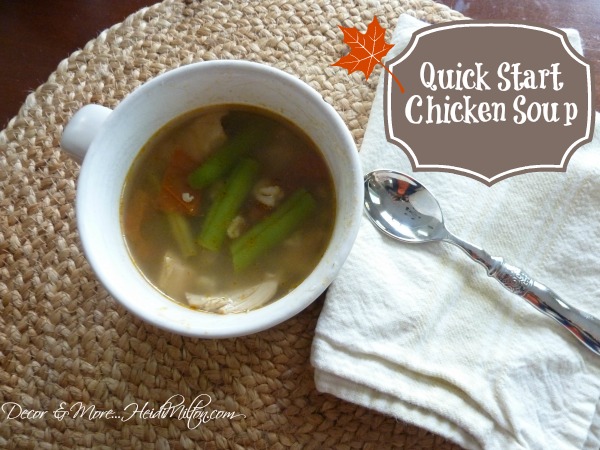 Quick Start Chicken Soup
What you need:
one rotisserie chicken
1 package frozen mixed vegetables
1 onion, halved
1 can diced tomatoes
2 cloves garlic, minced
2/3 cup Quick Cook barley or 8 oz egg noodles
2 carrots
1 carton chicken broth
1 tbsp dried parsley
salt and pepper to taste
Mrs. Dash seasoning to taste
What you do:
Pull chicken off the bones of your rotisserie and set aside.  Place chicken carcass in large stock pot with 10 cups of water, one half the onion, and the 2 whole carrots.  Add 2 tsp salt and bring to a boil.   Boil for 5 minutes and then reduce heat to low.  Simmer for 30 minutes over low heat.  While your homemade stock  is simmering,  dice 2 cups of the rotisserie chicken and the other half of your onion.
Leave your stock over low heat and remove the chicken carcass, onion and carrot, and discard.   Add chicken broth, diced onion, tomatoes, garlic and frozen vegetables and bring to boil.  Add barley or egg noodles and seasonings and let simmer for 10 minutes.  Stir in your diced chicken and simmer over low heat for another 5 minutes.
I usually make this a day ahead to let the flavors meld.  It refrigerates and freezes very well!  And is the perfect meal or snack on chilly fall days!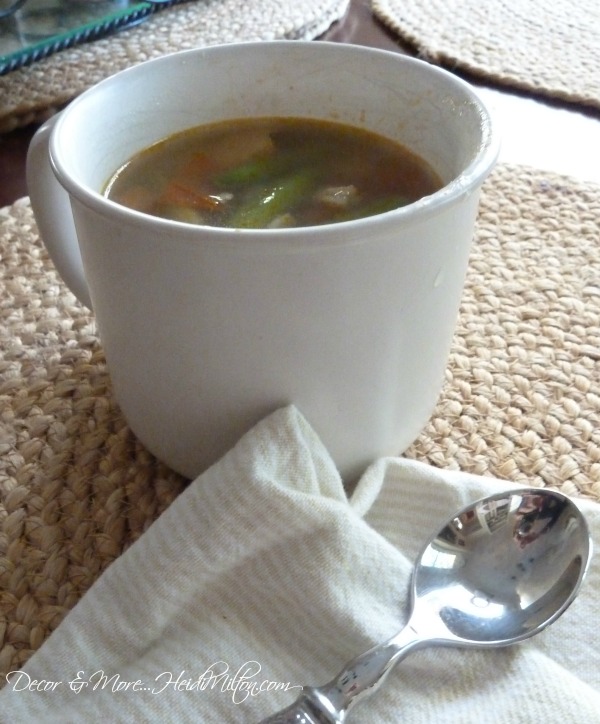 So are you a soup-lover like me?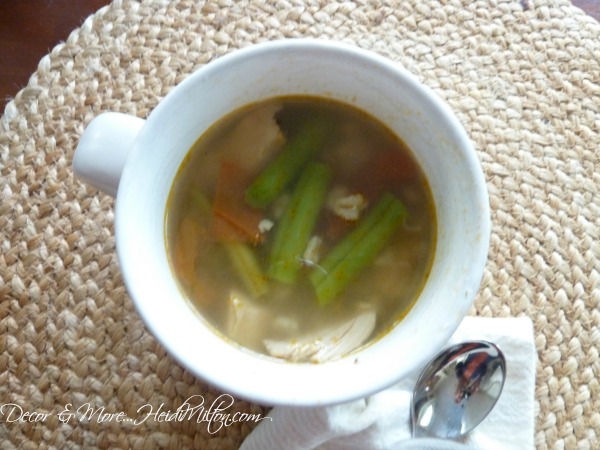 What's your favorite?
If you're looking for some neutral decor inspiration, check out my post on Winter Whites over at Mohawk Homescapes blog.  It's got me thinking about lots of white and cream for my holiday decor this year!
Enjoy the weekend, friends!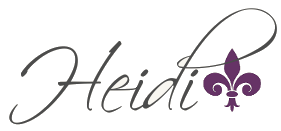 Pin It
&copy Copyright 2013
Heidi
, All rights Reserved. Written For:
Decor & More