I'm not one for decorating for each and every holiday that comes along.  I'm in awe of these gals that are switching out mantles and vignettes every couple of months to celebrate the various holidays… but I guess I know my limits. 🙂   I'm more of a seasonal switcher of decor– winter, spring, summer, fall, then Christmas (though you might find a nod to a certain holiday on my kitchen island or hanging on my door… just sayin'!).
I've loved my winter mantle sooooo much (are y'all sick of hearing about it and seeing it yet??), but the candles were calling me.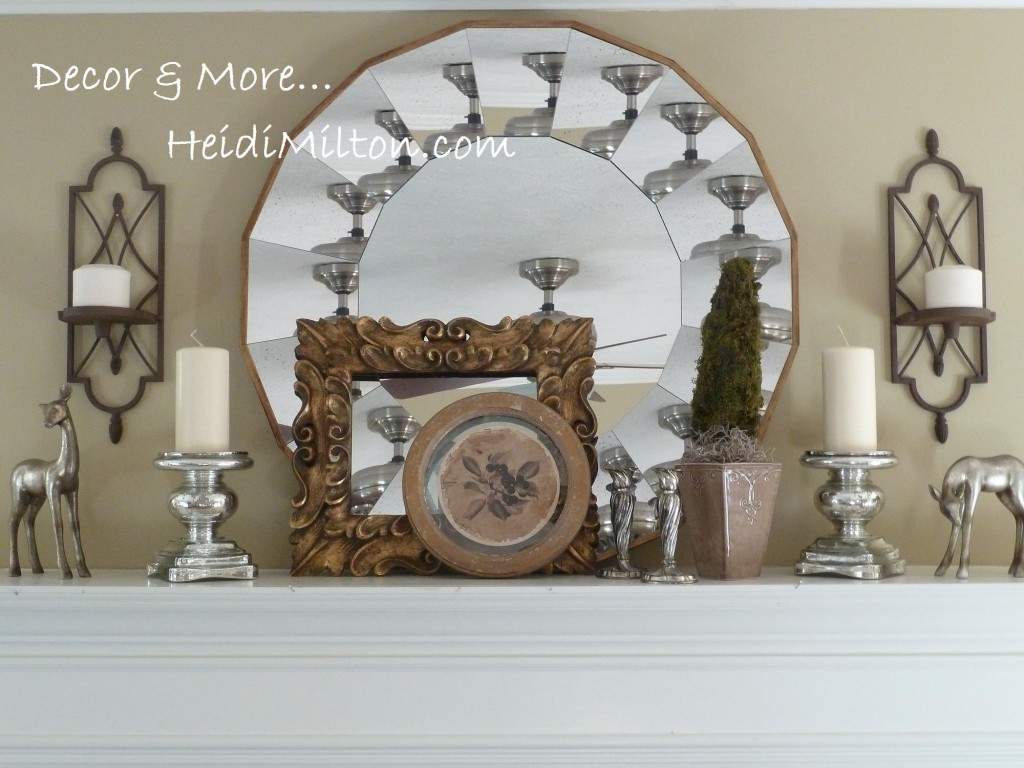 With Valentine's Day upon us, I decided to add a little romance to the mantle in the form of sheet music candles.  A while back I pinned this awesome knockoff of Pottery Barn music candles:
This is what I had in mind so I zipped over to Gail's awesome site and downloaded her sheet music printable. She offers it in tall or wide versions, so you can choose what would work best for your candles. Clever!
I did make a change to the project, however, in that I printed the music out on vellum. You can get a package of vellum sheets at Michaels or Hobby Lobby and they feed right through your printer.
I did a test run on two shorter pillars I have.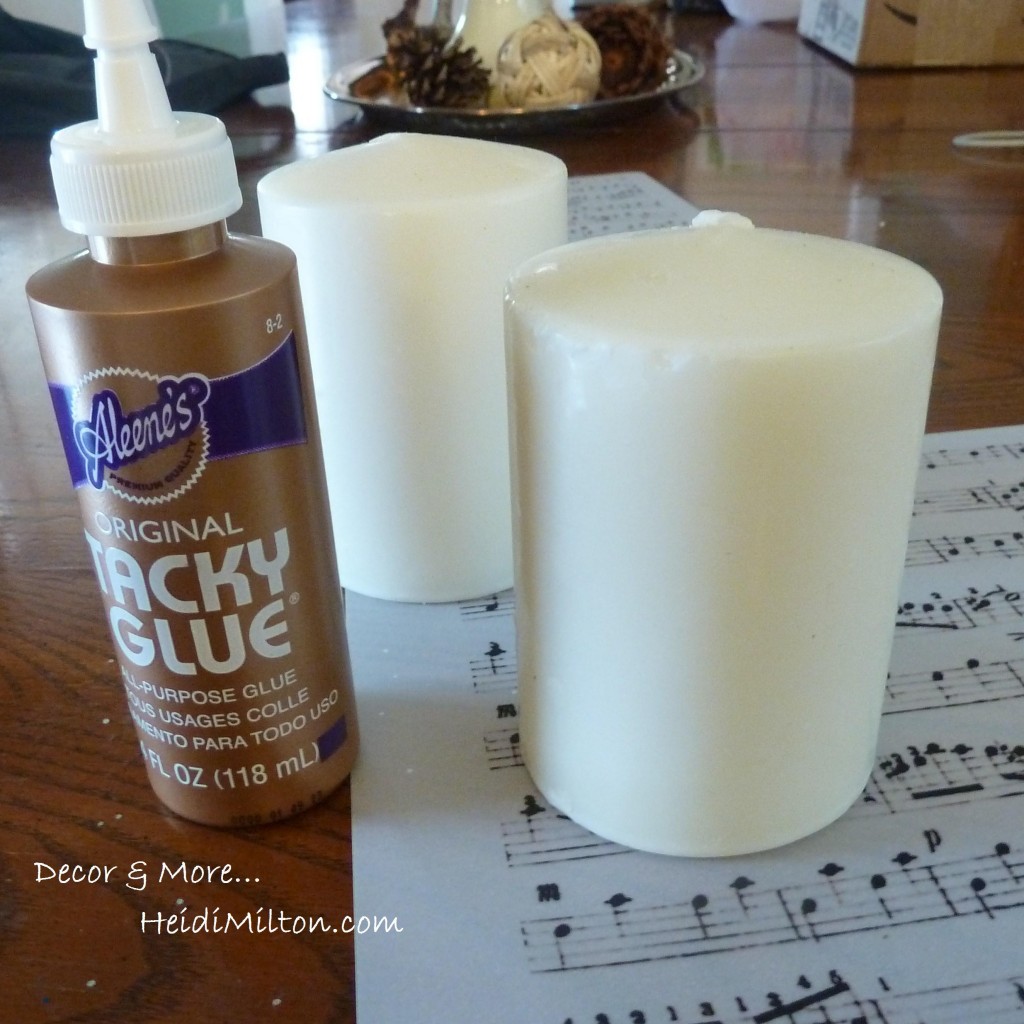 And yep… that's Tacky Glue.  I was determined to keep this as simple as possible!  I trimmed the music to fit each pillar, allowing for a little overlap.  Then I simple glued the edges down.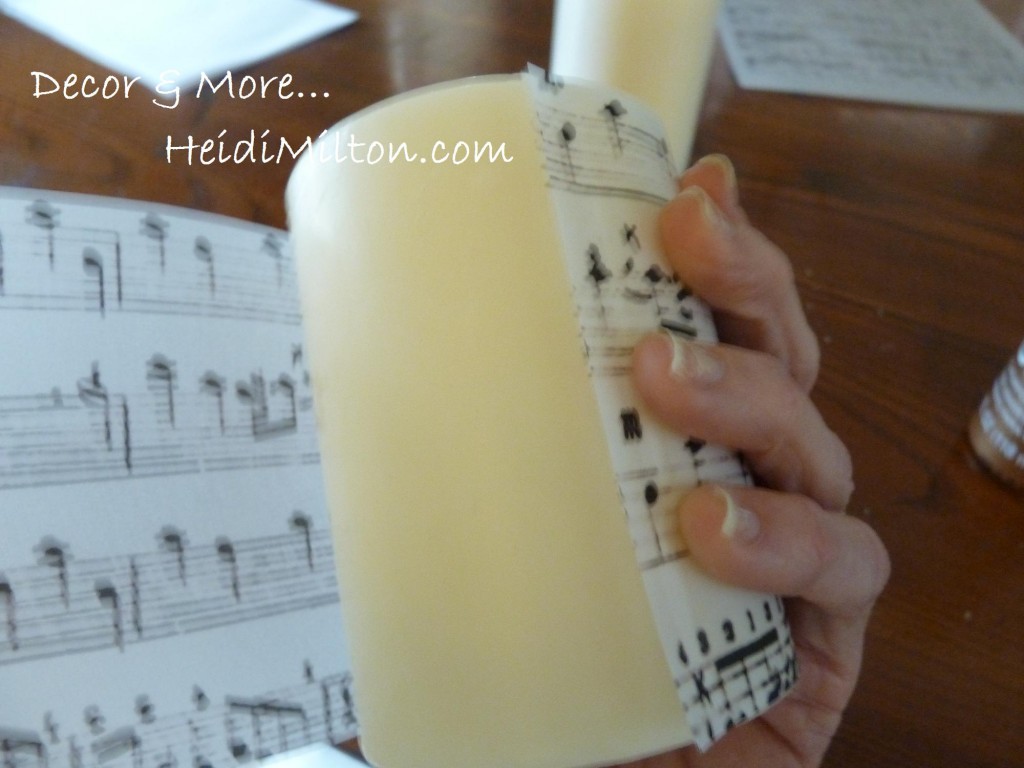 The trick is really in pulling the vellum tight around the candle, but because it's like thin paper, it's pretty easy to do.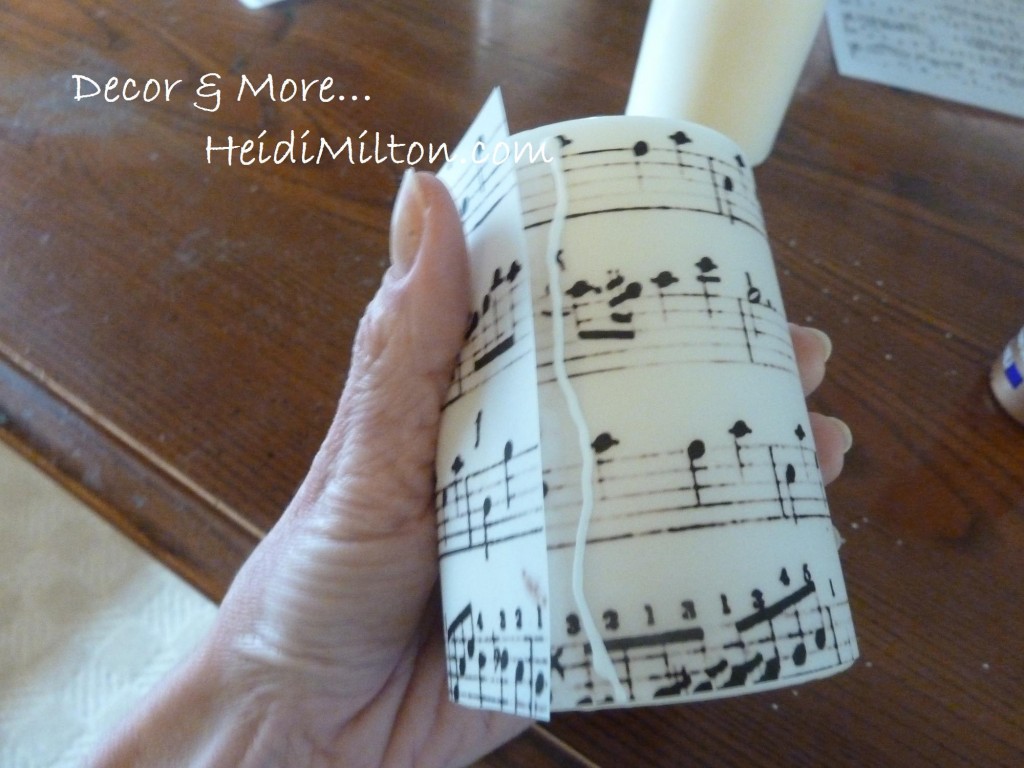 Love the way these turned out!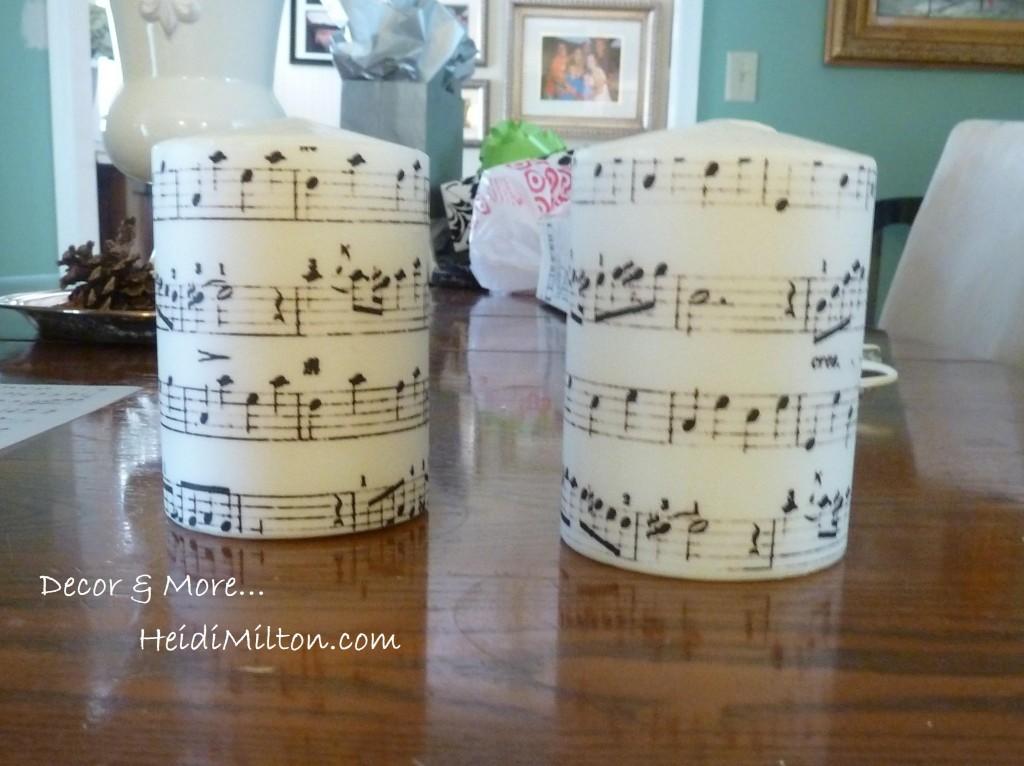 Like the real deal, no??
But… I kept thinking French.  French anything just oozes romance, don't you think?  So I hunted around online and landed at my old friend, the Graphics Fairy.  She had just the vintage French sheet music I was looking for.  So I printed that out on vellum as well and … voila!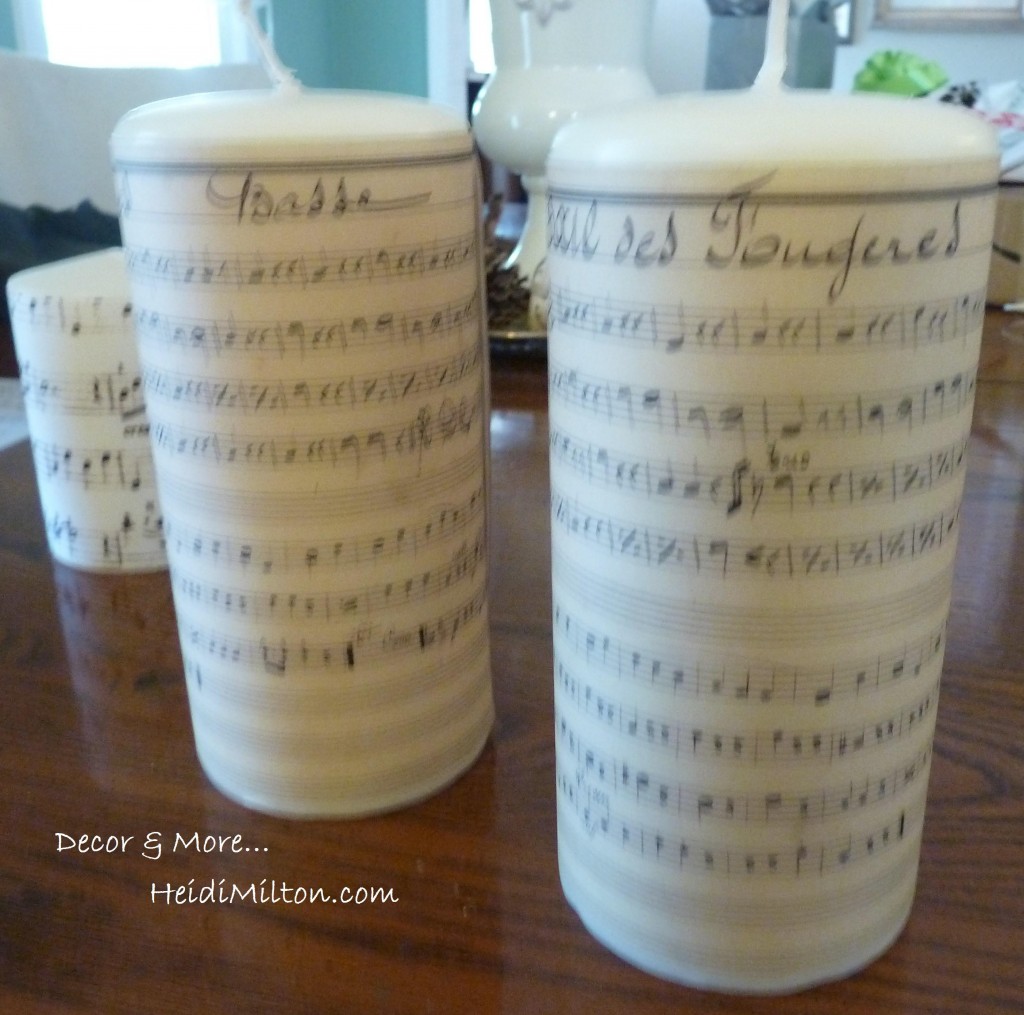 This prints out with a tea-stained quality.  You can't really tell in the photo about, but look at them in place on my mantle…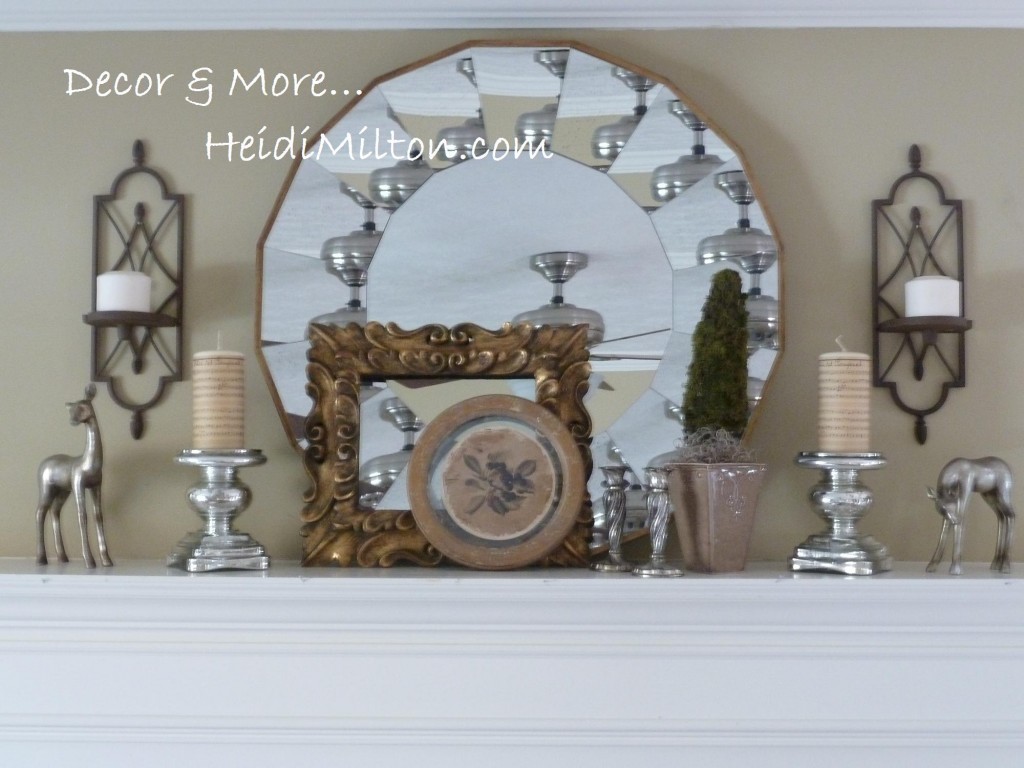 Oh, my gosh– I'm in loooooovvvvveeee with these!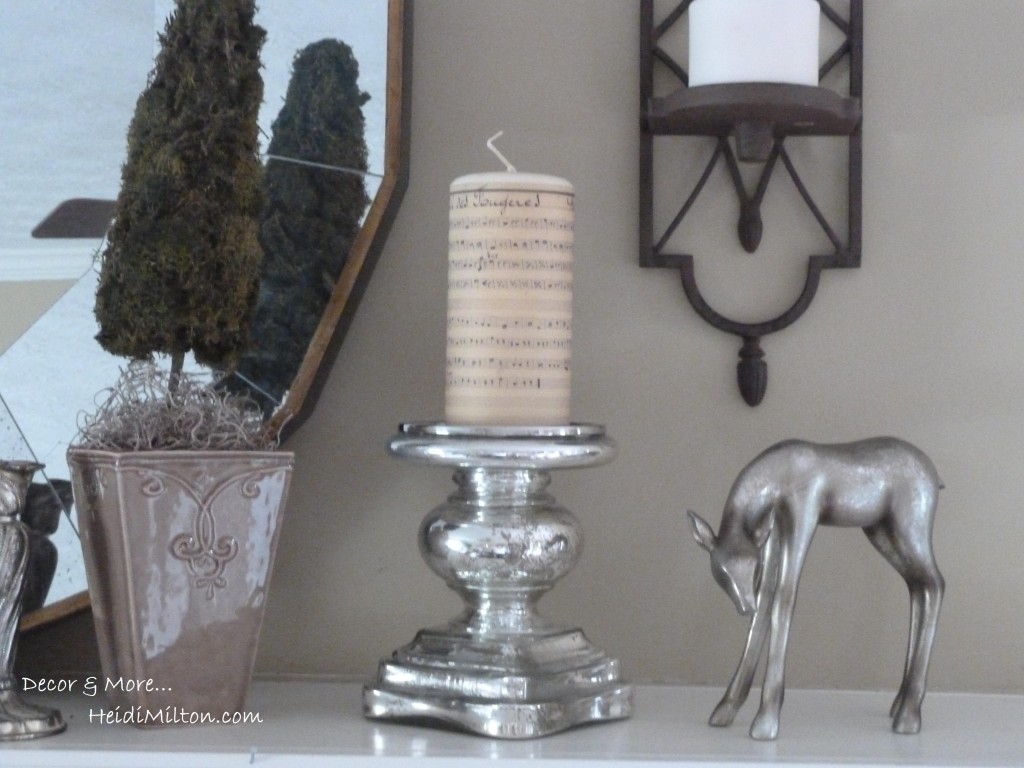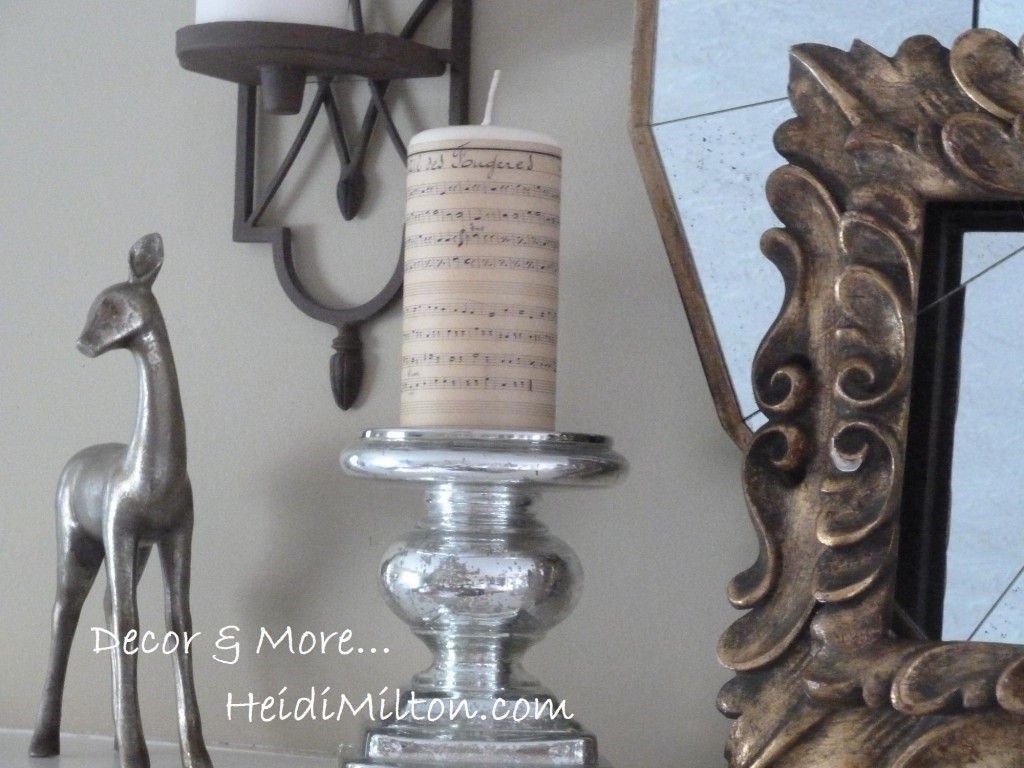 Ah, yes… the perfect finishing touch.
My shorter pillars have found their way to my foyer for the time being.
I love the way the graphics play off of silver and mercury glass… envisioning a really awesome tablescape to share soon!
What crafty projects have you been up to lately??
Linking up:
/>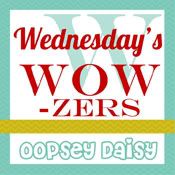 Heidi
, All rights Reserved. Written For:
Decor & More