Hello, strangers!  The last few weeks have truly been a whirlwind, but I feel like things are finally settling down a bit.  I've missed this little corner of the internet so I thought it was a good day to pop in and bring you up to speed!  And to let you know, I plan to be back to regular posting over the next week or so. 🙂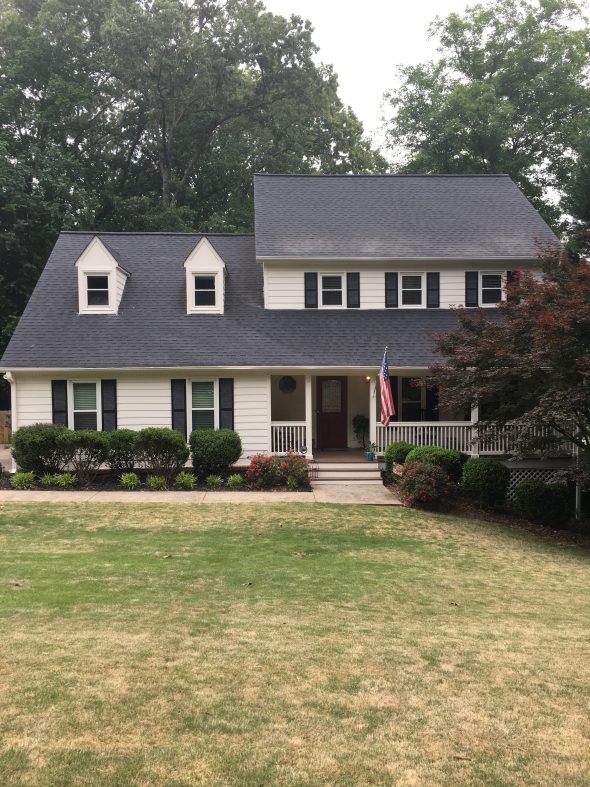 As you know, our house was under contract and we closed on the sale at the end of June.  I think I'm still processing letting go of our home of 19 years… I haven't really felt sad, just strange.  I'll probably be sharing more thoughts on that as I sort it all out.  I think because it was such a mad rush to list, sell, and move, I have just been in management mode.  And running on adrenaline.
I was thunderstruck, y'all, by the amount of STUFF we had in that house.  Granted it was six bedrooms and three floors, but I had some serious epiphanies about STUFF over the weeks of purging, packing, storing, and moving.  I'll be sharing more thoughts on that later when I can write a coherent post about it!
The strangest thing was walking through the house when everything was out.  Empty room after empty room.  And yet so many memories in every square inch of it.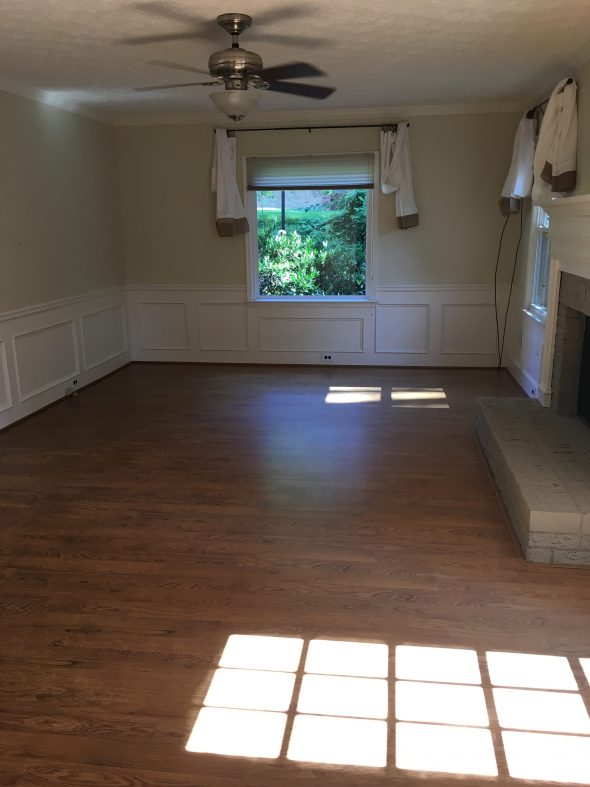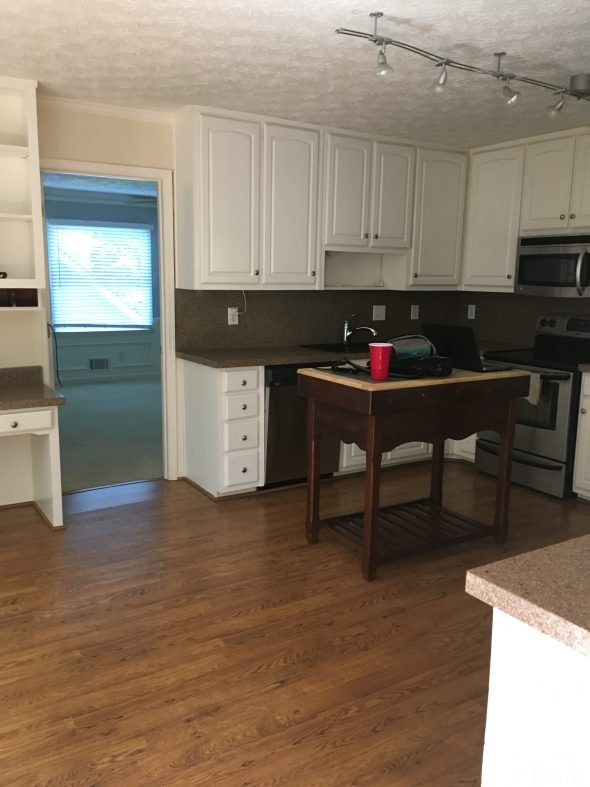 We vacated the house a couple of days prior to closing.  And wouldn't you know it, some of the requested repairs were right up until the last minutes — Gah!!  Talk about stress!
But the closing went smoothly and then the hubs and I enjoyed a champagne lunch to celebrate.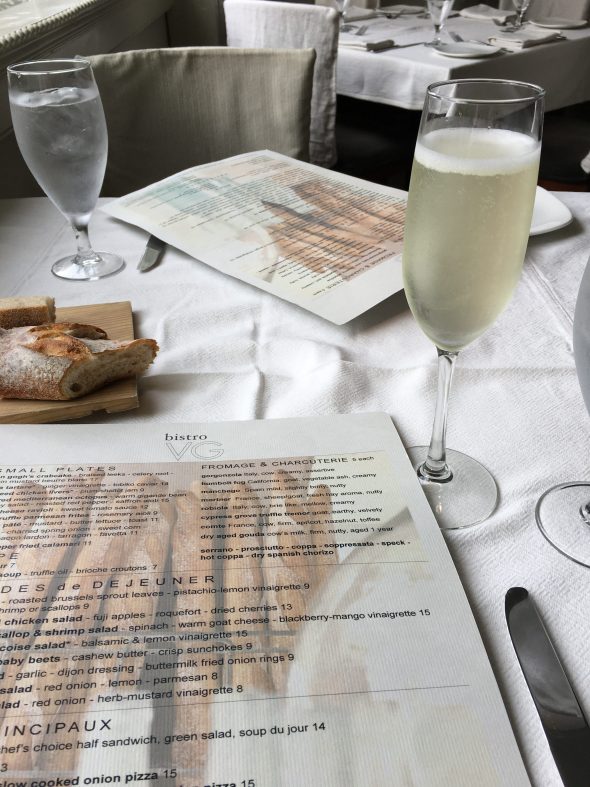 And then we CRATERED.  I'm talking feel like you've been hit by a truck exhaustion.  I am just now regaining my energy, regulating my sleeping schedule, and feeling like a human being again.   Looking back on how stressful and exhausting all of that was, I am amazed that the hubs and I didn't kill each other!  We didn't even have a squabble, believe it or not!
We've been in our new abode now for about three weeks and are slowly getting settled and figuring out our new spaces.  I'll be posting on that as well before too long!  But I have been intentionally kind to myself and am taking it slow and giving myself as much down time as possible.  Here's a couple of things I've been enjoying the past few weeks as a result:
Grace and Frankie…  Have you caught this show on Netflix??  Oh my gosh, I so enjoy it.  I'm not a big Jane Fonda fan, but the cast of the show and clever writing have got me hooked.  If you haven't checked it out, I recommend it!  I'm halfway through season 3 and the storylines are just as fresh as the first episode.
The Summer Before the War… I'll be posting more about this book later (among others) but this is such a great read!  Beautiful prose, engaging characters, and set in England on the cusp of World War 1.  Pick it up if you're looking for a substantive but not too heavy read.
The Nordstrom Anniversary Sale… now, full disclosure:  I'm not a cardholder so I can only access the sneak peeks right now.  The sale opens to the general public (non-cardholders) on Friday.  But I have a weakness for fashion bloggers and they've been blowing up the internet with their picks from the sale.  So I use their guidance and then create a Wish List (on the Nordstrom site) of everything I think I might want.  I mean everything!  By the time the sale goes public, I will have decided on a budget and then I revisit my wish list to see what's still available and what's still speaking to me.  I've found this is a great way to bookmark things I like but avoid impulse purchases!  Granted, I miss out on some deals due to things selling out during the cardholder sale, but for the most part I get some awesome pieces for fall/winter at great prices.
Instastories… y'all I can seriously kill an hour watching everyone's insta-stories!  I'm not sure what I find so appealing about them, but it's fun interaction.  I'm still figuring out how use them myself but plan to get that figured out soon.  Stay tuned!
Believe it or not, I am ramping up Legacy this week for the coming school year, with a few meetings, inventory, and communications on my to-do list.   Next week will be even busier, but with our first day of school now a month away, it's time to get the party started. 🙂  I'll post a school update or two soon as well.
I've been giving this space some serious thought over the past several weeks and I'll be sharing my thoughts and plans in the coming weeks.  Change begets change, you know!   I so appreciate each of you that read and follow along and want to bring my best to this space, no matter what's going on in my world.  I'm excited about what's ahead for all of us!
Okay, now it's your turn… what's been going on in your world this summer??  Any good books? Movies? TV shows?  Changes?  I'm anxious to hear!  Have a great Monday and I'll be back soon… promise!
This post contains an affiliate link.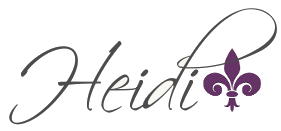 Save