Hi gang!  Hope your week is going well!  I just wanted to pop in and share a few things…
I was working on an article for Mohawk Homescapes blog and ran across this image…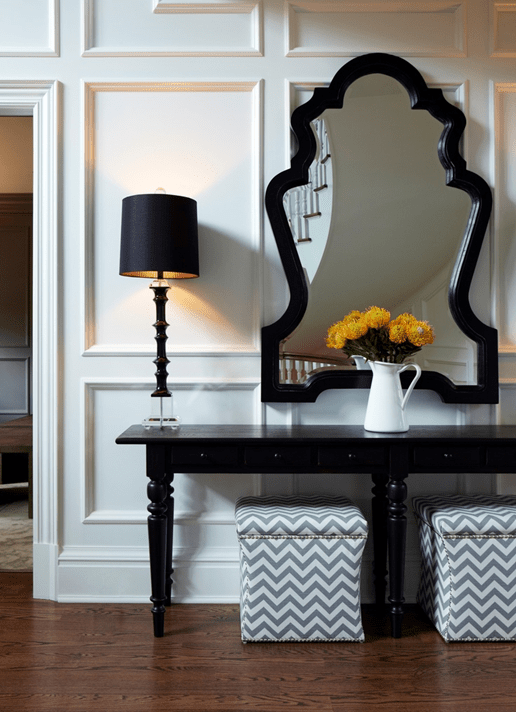 I mean — y'all.  I don't normally fall for black framed mirrors, but holy smokes!!  And I love the way it's hung on all that beautiful molding.  And those gray chevron ottomans with nailhead trim don't look terrible either. 🙂  Do you ever find an image that leads you down the yellow brick road on the internet?  Well, this one led me to Chango & Co.  I had never heard of them, but found my self scrolling through their entire portfolio.  If you're ever looking for fantastic detail inspiration, this is your spot.
Speaking of Mohawk Homescapes,  check out my latest article on lighting… lots of good inspiration there, too. 🙂
I was the lucky recipient of some beautiful magnolia branches and branches from friends that live on the Little Escambia Creek in Alabama.  The magnolias grow wild in the woods there and their branches are curved and the foliage more open than the magnolias you find landscaped in around here.  I've popped a few around my home and am loving their simple broad leafs.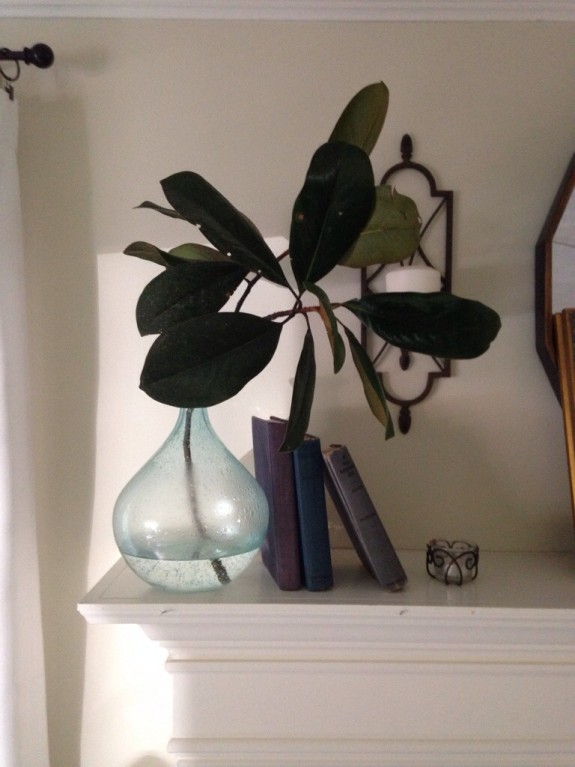 I also scored a BUNCH of awesome driftwood and I've got some plans for those pieces… oh, Lordy do I have plans!
In other news, I am still struggling mightily with my injured foot.  Being on my feet for hours straight each day has made things worse I fear and I'm not sure how to rectify this short of teaching my Littles seated.  Yeah right.  Life goes on however, so I'm just getting off of it whenever possible and trying hard not to over do.
And lastly, we are headed to Jacksonville this weekend to join my stepson for a celebration.  A one year clean and sober celebration.  I haven't discussed it here on the blog before — it's been a very painful and trying situation that our family has spent the past year working through.  And we'll continue on that journey with him.  We are immensely proud of him, but know that it's only through God's grace and a bigger plan that he is still on this earth with us.   We've had tremendous support from our friends and family and also from dear ones in our Nar Anon group.  Without them, our marriage and family would be in serious jeopardy.   If you know of someone that has a child or loved one struggling with addiction, I cannot emphasize enough how beneficial Nar Anon groups are. Encourage them to find one.  One year of clean and sober living is only a baby step in a lifelong battle for him.  We have no idea what the future holds for him, but we plan to shower him with love and encouragement this weekend.
I'll be back next week with a couple of fun posts, including a few pics from the little makeover I gave my school director's office this summer.
Have a blessed day, y'all!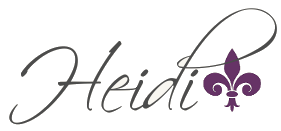 Pin It
&copy Copyright 2014
Heidi
, All rights Reserved. Written For:
Decor & More