Oh my gosh, did our winter take a toll on my back deck!!  Every plant was dead — even the ones that will normally winter over — and my furniture had taken a beating.  Since it's prime deck-sitting time now, this was first on my list of summer projects. 🙂
Here's the sad sad before…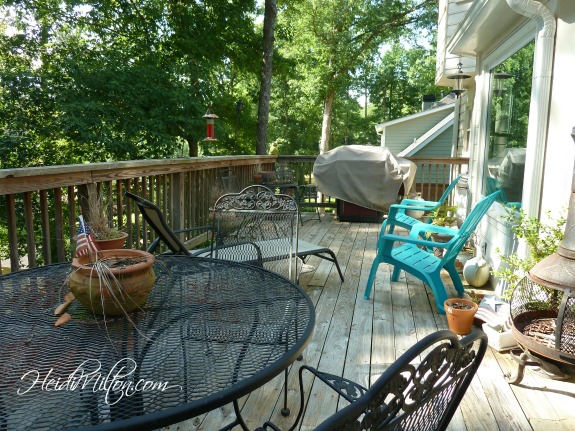 Ugh.
And here's the after…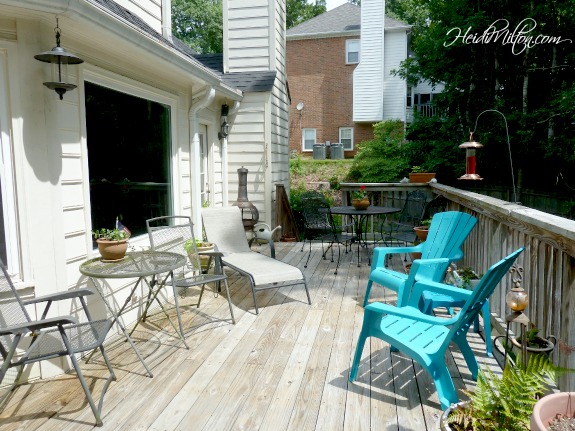 Ahhhh!  Much better!
Here's the un-fun stuff  I did:
hubs had pressure-washed a few weeks ago for me.
Used the blower to get rid of storm debris and leftover pollen.
Pounded nails down that had sprung up over the winter
And then there's the fun stuff!  I had this little resin table from Target (seriously 17 years ago) but it didn't match my fun turquoise Adirondack chairs (Target last year).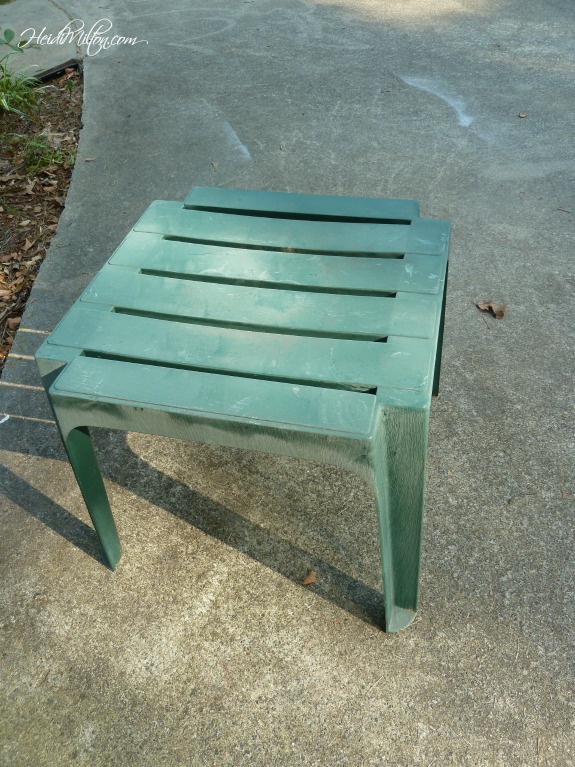 So she got a couple of coats of this amazing color…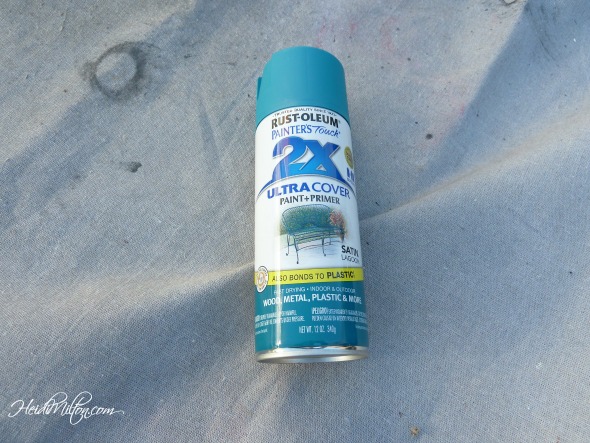 Paint and primer in one?  Sign me up!  The color is Lagoon and it's almost a perfect match for my chairs.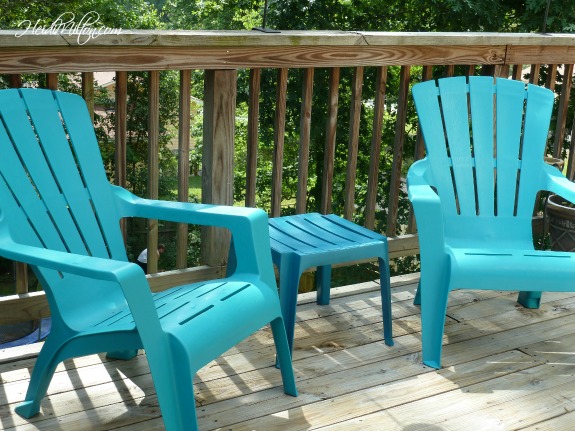 Once I'd refreshed all my pots with new flowers — begonias, creeping jenny, sweet potato vine, coleus, etc — and I added this sweet little white planter on top… hubba hubba!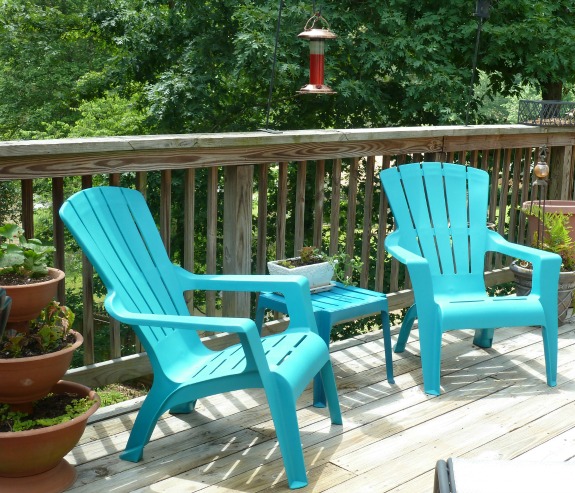 You probably noticed I rearranged our seating areas, too.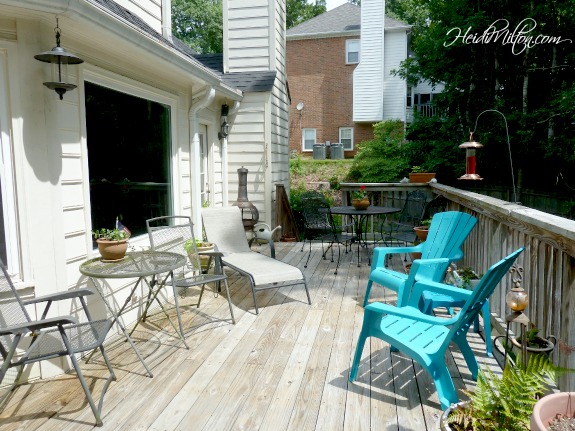 Now when I look out my kitchen window, I see my cheerful little turquoise seating group!  And the bistro table is perfect for under the kitchen window.  The dining tables and chairs will all be getting fresh coats of paint over the next week or so.  It's time.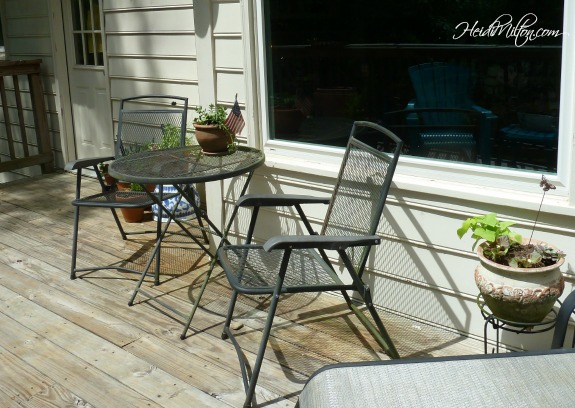 If you follow me on Instagram, you saw my little haul from Home Depot.  Their herbs and veggies were all 3 for $10 so I was able to refresh my herb garden for about $20!
I added a new herb this year called lemon balm — supposed to be perfect for iced and hot teas!  I can't wait to try it out.  I'll be creating a new paint stirrer herb marker for it.
I love seeing freshly planted pots!  And I always pop a few small American flags in my deck pots…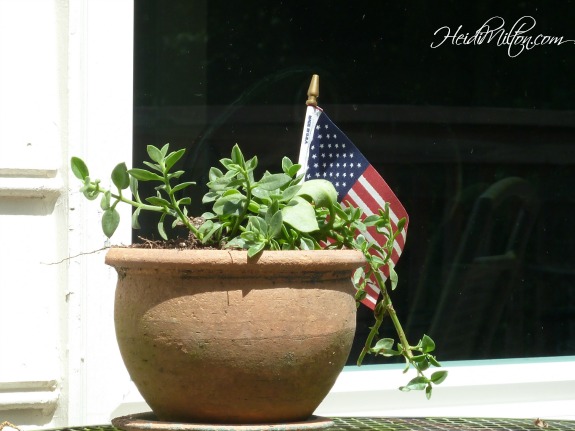 Even Uga got spruced up!  My little nod to my Georgia Bulldog daughter…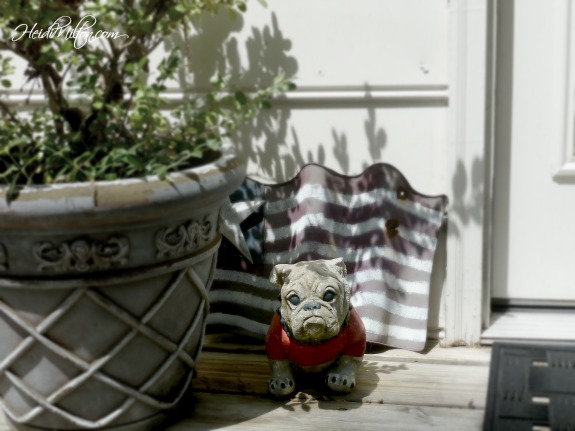 That faded metal American flag will be revamped for some additional decor out here.
And I have this lovely on order to tie my seating groups together…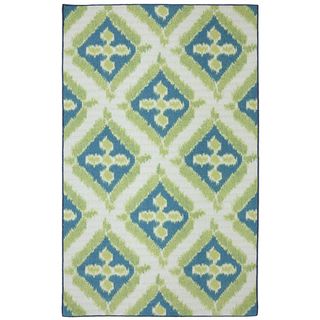 I've never used an outdoor rug before, so I'm super excited to see this in place.  Some outdoor pillows, citronella candles, and outdoor lights are in the works as well…stay tuned! I'm on my way to an awesome deck-sitting season!
Ok, your turn — have you spruced up your outdoor spaces yet?