Well, we're already back in school here… I confess I'm ready for the presence of SOME routine, but not ready for the full schedule again.  Where did the summer go anyway??   I realized that I fed people (BIG people with crowds of friends) constantly this summer and honestly?  I'm kind of over it.  Did I just confess that to all of blogland??
Yep.  I'm over it.  But it did force me to revisit recipes I hadn't made in a while, just to keep the monotony of meal prep from killing me. 🙂  Today I'm sharing my quick and easy corn and black bean salsa recipe… this makes a terrific side for any Tex Mex or seafood meal.  Plus it's yummy to just plow through with a bag of tortilla chips.  #justsayin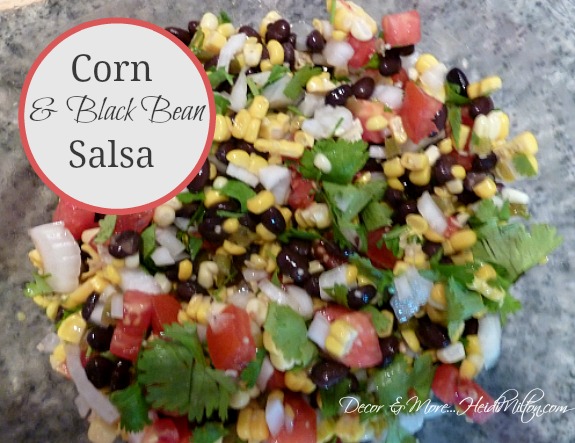 Here's what you need::
2 cups of corn
1 can of black beans, drained
1 medium tomato, chopped
1/3 cup diced sweet onion
2 cloves of minced garlic or 1 tsp minced garlic from a jar
1 tbsp white vinegar
1/4-1/3 cup chopped fresh cilantro
1 tbsp diced jalepenos
Here's what you do::
Combine all ingredients, mixing well.  Cover and refrigerate.  Enjoy.
Is that easy or what??  We served this with tacos, grilled pork chops, grilled fish dishes — it goes with just about everything.  And it never lasts more than a day around here.  Maybe it will once the college kids take off. 🙂
Enjoy your day!