I love the Dollar Store.  A brand new one just opened up near my house and I could get lost finding great deals in there.  It was my first stop when I was preparing for my preschool Moms' Tea — on the hunt for those simple glass cylinder vases.  I had a vision for this project…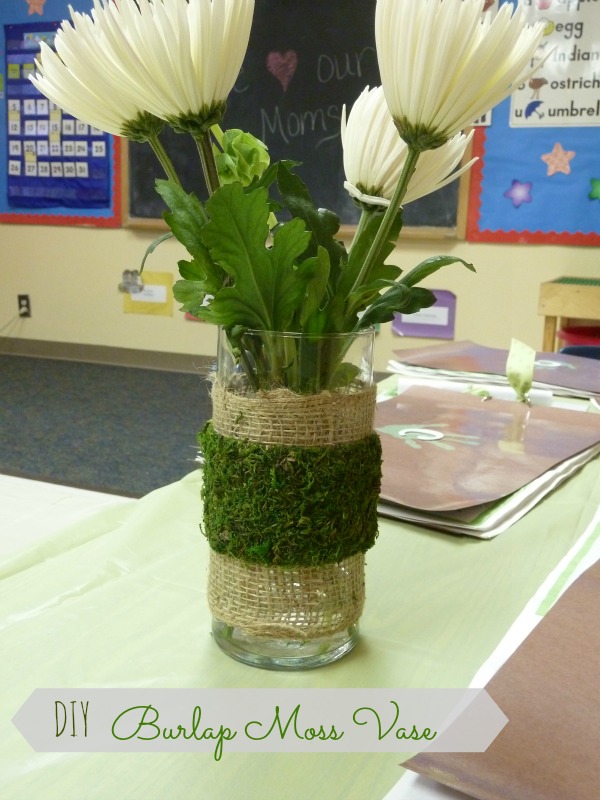 These were a big hit with my moms, especially since three of them got to take one home. 🙂
Here's the how-to!
Supplies you'll need:
glass cylinder vases (Dollar Store or sometimes the thrift store for even less!)
4 inch burlap ribbon (Hobby Lobby or Amazon.com)
moss ribbon (WalMart)
Tacky Glue (WalMart, Hobby Lobby, Michaels)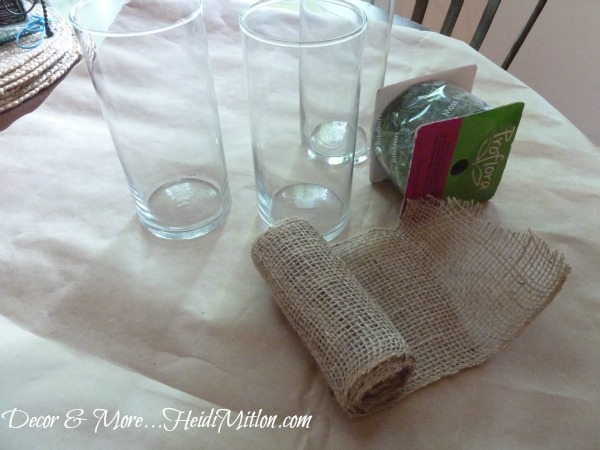 I set mine up on a piece of craft paper… you'll see why in a minute. 🙂
Step 1:  Measure the circumference of your vases.  These were all about 11 – 11 1/4 inches around.
Step 2:  Cut your burlap and moss ribbon to that length plus about 1/2 inch.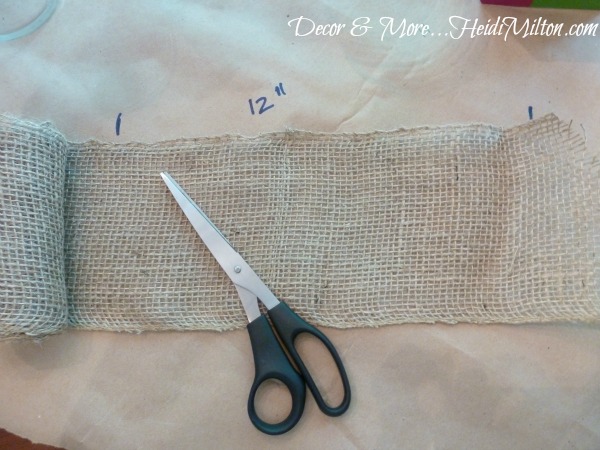 I marked my craft paper to the length I wanted since I needed to cut 3 strips of burlap ribbon and 3 lengths of moss ribbon.  Time saver!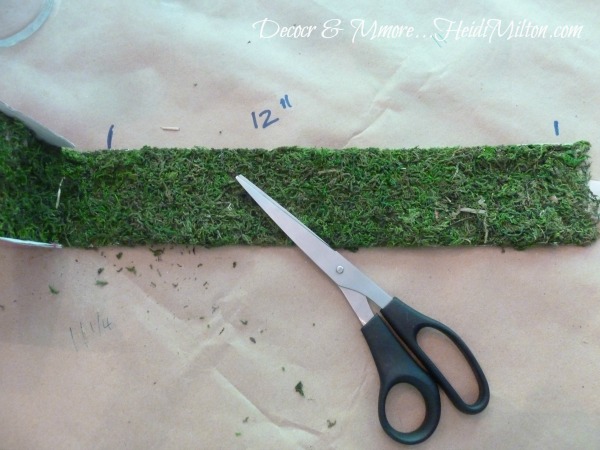 Step 3:  Adhere the burlap ribbon to the vase, using a bead of Tacky Glue.  I used a total of 3 vertical beads of glue to secure it.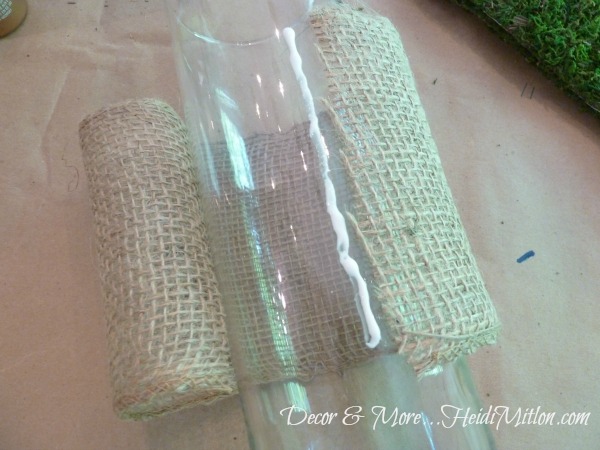 The glue dries clear, so use enough to really secure it.
Step 4:  Adhere the moss ribbon over the burlap ribbon so that it's centered on the backdrop of burlap.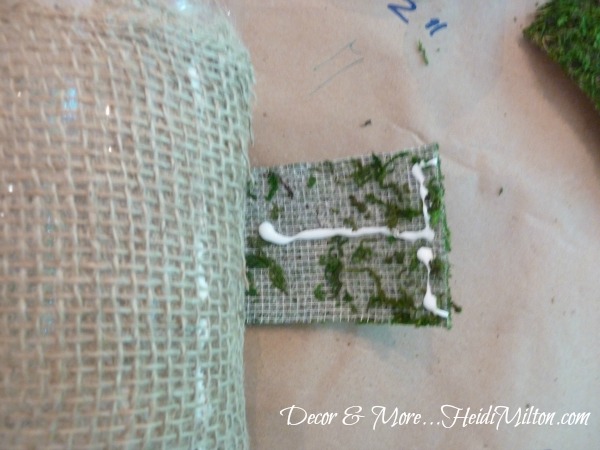 The moss ribbon is heavier than the burlap, so you'll need to be generous with the glue, but I found that it adhered really well.
Step 5:  Press firmly where you've glued to make sure everything is secure.
And there you have it…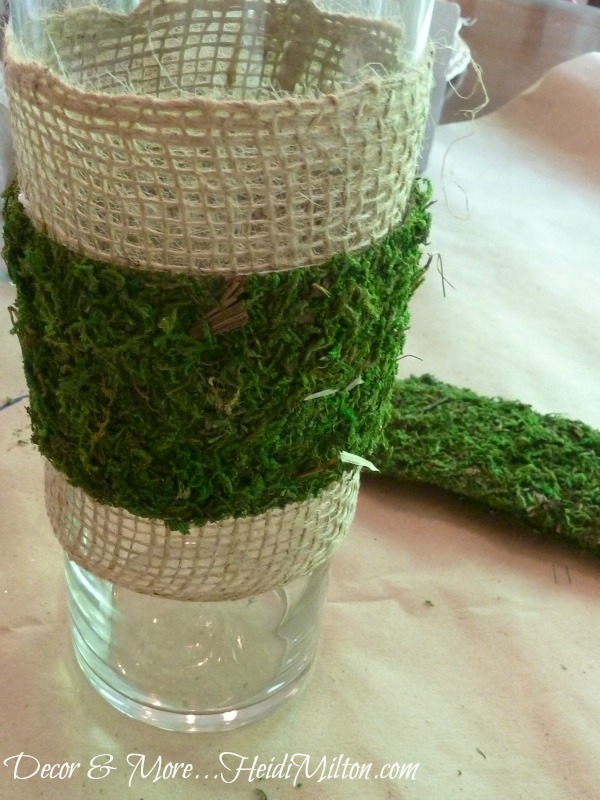 I did three, one for each table in my class room.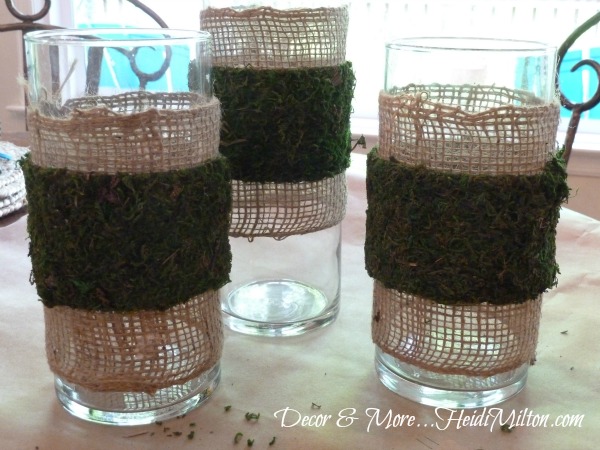 I love the texture of the ribbons against the glass… and I kept the flowers super simple for maximum impact.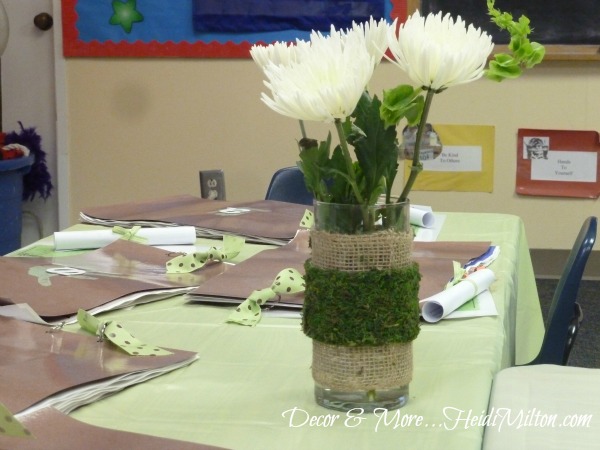 Easy enough for you?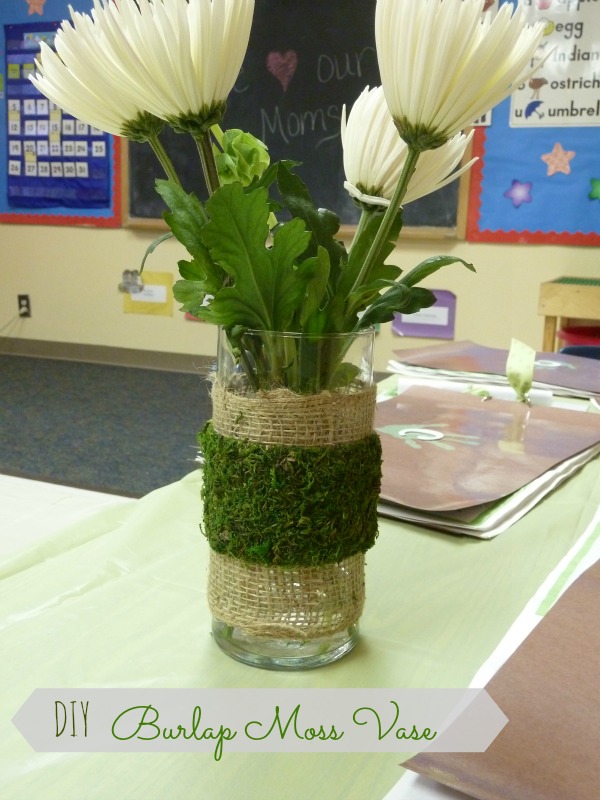 I'll be sharing this on Monday at Debbiedoo's and Fox Hollow Cottage's Dollar Store project link up!
If you'd like to see the similar burlap wrap vases I did for my class last year, you can find them here.
I'm finishing up my massive clean-up/organization in preparation for graduation AND the guest room this weekend.  If I can manage it, I'll also wrap up some updated graduation decorations geared toward my son (I'm brimming with ideas!!) and get started on some menu items for his party.   I see a 5 Hour Energy or two in my future. 🙂
Have a great weekend!