Is it already Monday?  The weekend just flew by, but we got some amazing family time celebrating my mother-in-law's 80th birthday… how cute is she?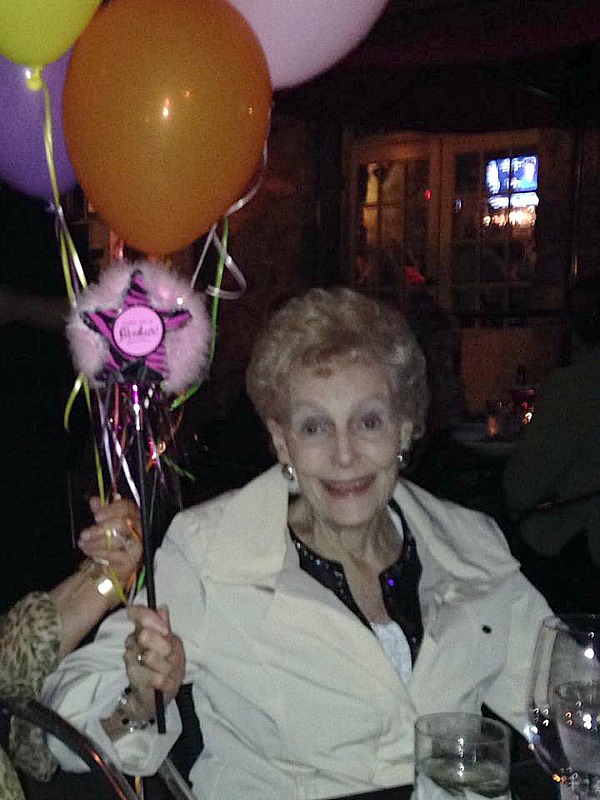 I hope I look half that good at 80!  It was a fun weekend, and my boy even achieved a hat trick in his soccer game — winning weekend for the Miltons!
Today I'm sharing my fall decor in the family room.  After painting several pumpkins and adding them to  some I spraypainted a couple of years ago, it's a veritable pumpkin-palooza in the family room. 🙂
You've already seen my fall mantel... I've changed out the Japanese maple branches for fresh ones, but otherwise, it looks just like this…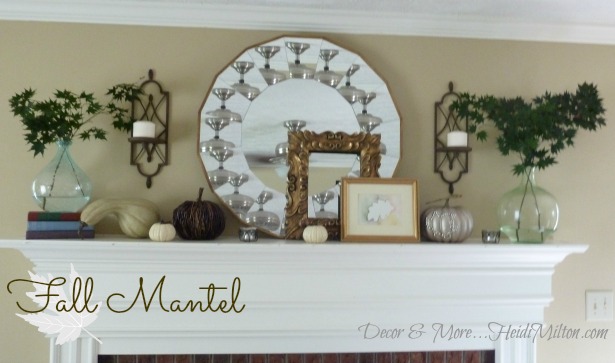 Still loving it… and here are some other peeks.
My bookcase is loaded with a variety of pumpkins, but it's looking a little haphazard to me… I'll be tweaking this one for sure.    But here's what I like that will stay…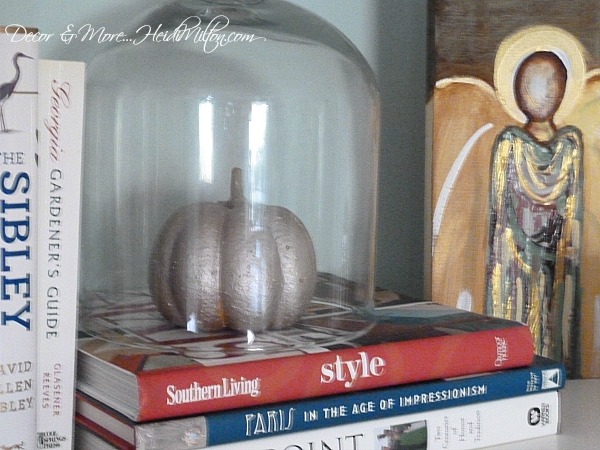 Everything looks amazing under a cloche, don't you think?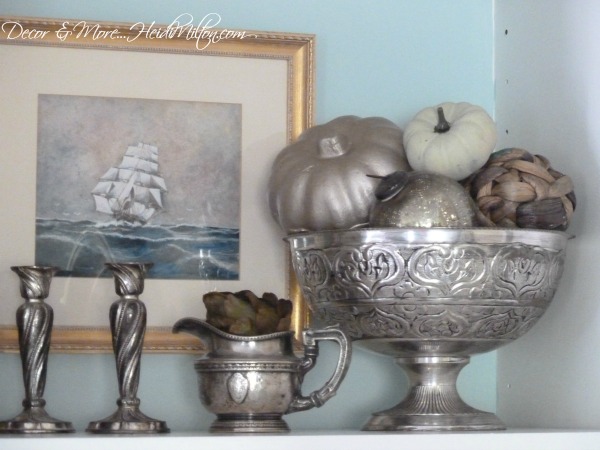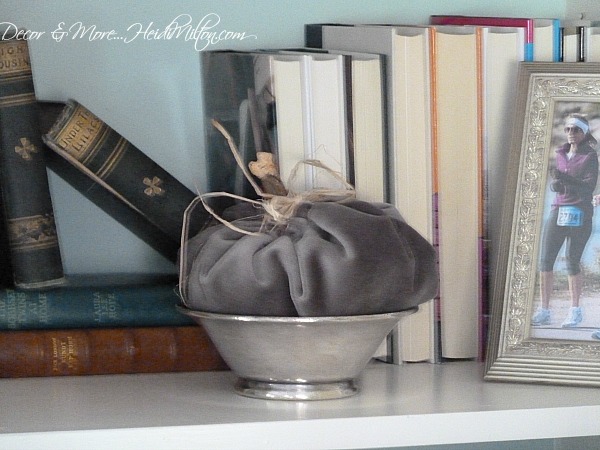 Sweet little cushy pumpkin. 🙂
The end table next to the sofa got a little mocha colored grapevine pumpkin…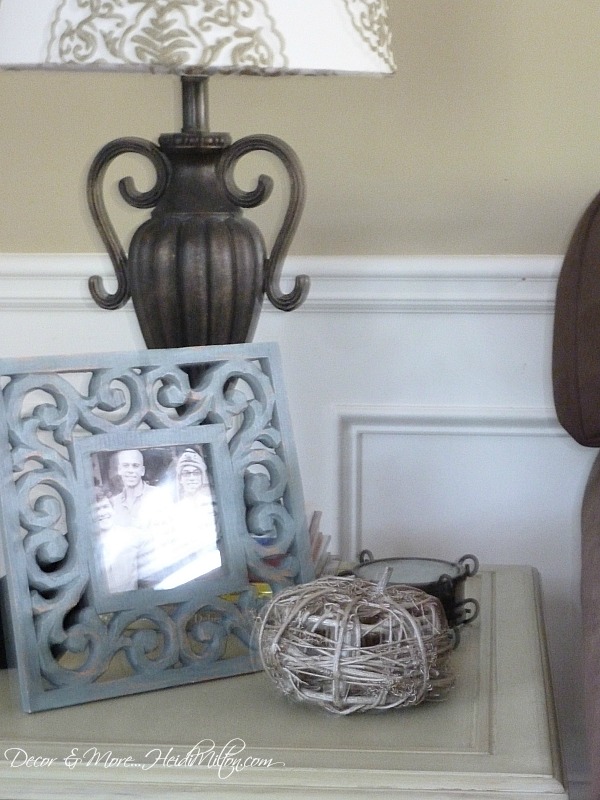 The coffee table is still home to my monogram pumpkin…
And the console table under the big picture window…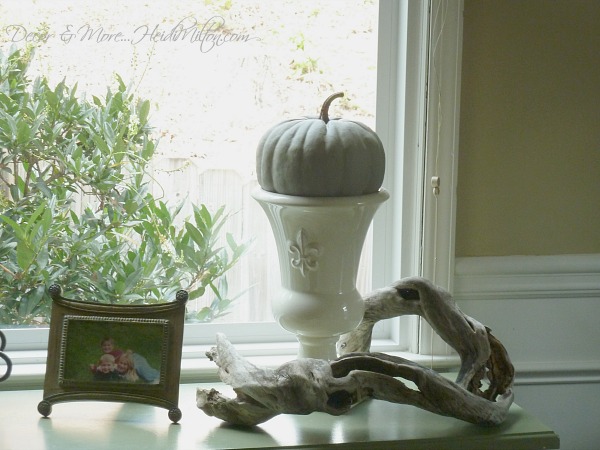 I've still got plans for that awesome piece of driftwood.
My sister-in-law brought me this fun turkey pumpkin, so he's hanging out there now, too…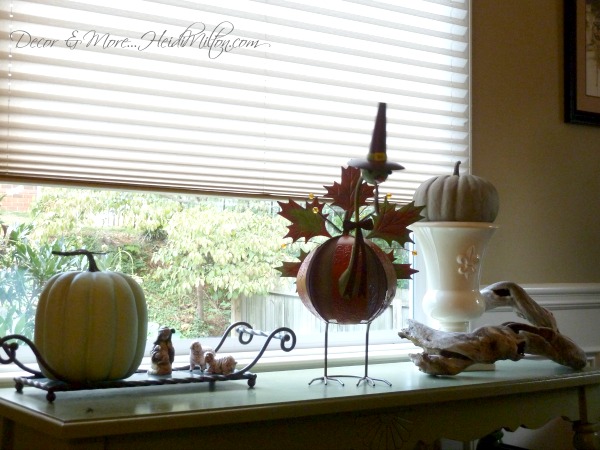 Isn't he cute?  He may end up hanging out on the front porch, but we're enjoying him here for now.
I've got a change or two to the family room wall decor coming up along with a new wreath for the back door to the deck — gotta keep things fresh, you know!  I'll be sharing all of that soon.  For more on my family click HERE or visit my Home Tour page.
So what were you up to this weekend?  Enjoy your Monday, folks!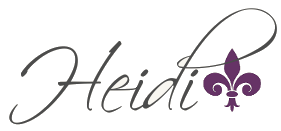 Pin It
&copy Copyright 2013
Heidi
, All rights Reserved. Written For:
Decor & More