Well, I finally got the family room fit for photographing!  I wanted to share a few "in progress" pics, so y'all can follow along as I gradually tweak this space.
First of all I wanted to share a good picture of the rug.  I mean…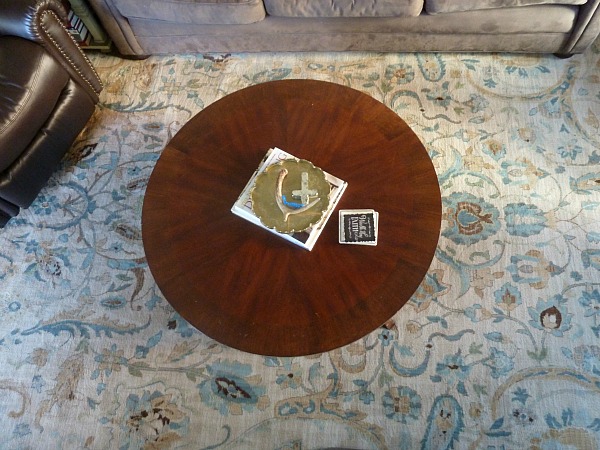 I'm just in love with the pattern and colors.  And it works beautifully with the pieces I already have.  Winner winner chicken dinner!  Click HERE to view sizes and prices.
You might glimpse in the upper left corner of the picture yet another piece of brown furniture.  Well, this is one of those times I had to let functionality reign.  Did I want another big piece of brown furniture in here?  NO.  But, when I purchased the chairs that replaced our big cushy club chairs, the hubs wasn't happy with how they worked for him.  And when I moved them side by side to the far end of the room, it left space for something bigger for him on the end near the doorway.  We just happened to have a brown leather recliner in the basement — a piece we inherited from a friend.  It's in perfect condition with some neat nailhead details.  Do I love having it in here.  NO.  But is the hubs happy?  YES.  So, it's worth it to have something I don't love in the room to keep the peace. 🙂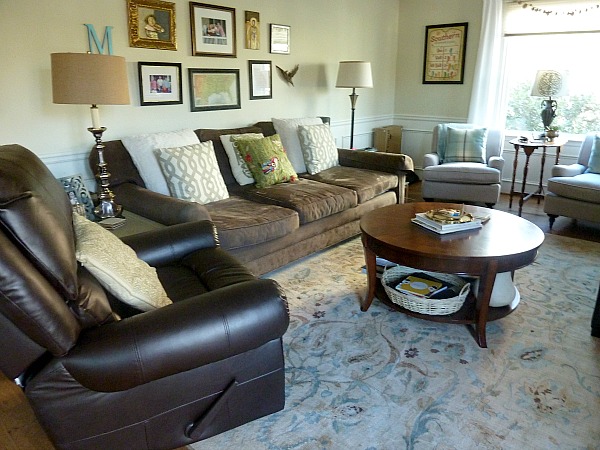 This photo makes it look bigger than it actually is, but I'll get some better photos soon.
Now, see that blank corner to the left of the window?  I'm pondering and researching how to address that space without further cluttering the room.  Once I've got a few ideas, I'll share them and y'all can help me decide, ok?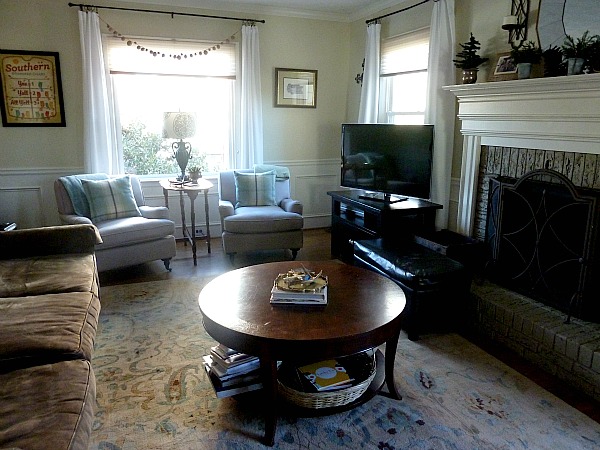 Here you can see how we shifted the TV out of the corner right next to the fireplace to accommodate the chairs' new location.  The hubs was skeptical at first, but now agrees that it works just fine.  The stand is going to get a little makeover to lighten it up.  Stay tuned for that.
Oh, and see that brown storage ottoman parked in front of the fireplace?  It's finding a new home…
So, once my sweet little flotaki ottoman gets here and a couple more tweaks take place, I'll update you again.  I've done a simple mantel refresh I'll share soon too.  So much to share!
Hope you have a fantastic beginning to your week… I'll be back on Wednesday with a book launch I'm participating in!  Can't wait to tell you about it… see y'all soon!