Happy Monday, y'all… hope you're ready to tackle the week ahead!  I had an awesome low-key weekend of getting things done, making some plans for projects, and a good bit of reading, too.  The hubs was in a deer stand somewhere in South Georgia and the boys were all doing their own things, so I got a little "ahhhhh" time. 🙂
Today I'm rolling out a project I've been contemplating since early Fall.  I planned to implement it long before now, but as the fall snowballed out of control and the holiday rush was suddenly upon me, it seemed better to put it off to the new year.  And here we are.
You can imagine that with all the traveling I did last fall and even through the holidays, my home is in a fair state of disarray.  It's better now that Christmas decor is finally put away, but weeks (months!) of piling up paperwork, sticking stuff in cabinets and closets to get it out of the way has caught up with me.
But.  I'm not one that can spend several days doing nothing but tackling closets and cabinets.  I'm just not.  I have a job and a busy family and I prefer to tackle huge (and I mean huge) projects like this a little at a time.  It didn't get this way overnight, and it's not going to be organized overnight.  So I decided to break this house-wide organization project into bite sized pieces.  One small space at a time.
I like crossing things off my list, so the Small Space Project seems like a great way to work my way through my home, crossing spots off my list so I see the progress I'm making.  I made my list this weekend, but even as I type this, other little spots are coming to mind (freezer?  snack cabinet?) so I'm sure I'll be adding things as I go along.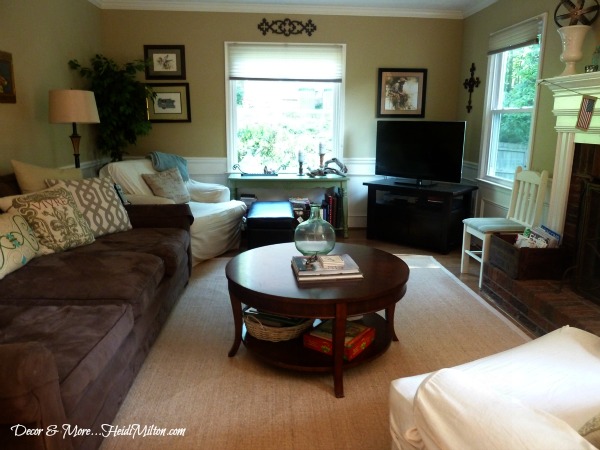 See that shelf under the coffee table?  Yeah, it's overflowing with games and papers and magazines right now.
See those bookcase cabinets?  Don't even know what's in them.  Yes, I do.  And I'm afraid to open them.  But what awesome storage that's not being properly utilized!
These are just a couple of spots on the list…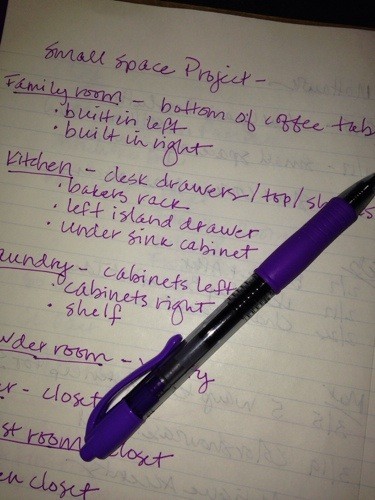 So, here's the plan.  I'll have at least one Small Space Project post here each month, where I'll share which small space(s) I tackled that month.  Hopefully, it will be more than just one, but there may be really busy months where that's all I can do.  And there may be months where I get on a roll and tackle a bunch.  Either way, I'll be updating you once a month on my progress, complete with the down and dirty "Befores" and the (hopefully) well-organized "Afters".
But wait!  That's not all!  I'm inviting you to email me your own Small Space Projects, and I'll choose a few to feature along with my own.  I know you all are amazing organizers, just waiting to be showcased!  Just send a email to heidimilton at comcast dot net with SSP in the subject line, and attach before and after photos, a short description of your project and a link to your blog if you have one.  Hopefully we can keep ourselves encouraged in the organization process AND accountable at the same time.
I'm super excited to get going… reminding myself it's a marathon, not a sprint.  And  I want the organization to stick — to be functional and easy to maintain when all is said and done.
Are you ready?  Let's DO this!!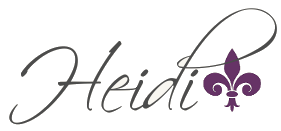 Pin It
&copy Copyright 2014
Heidi
, All rights Reserved. Written For:
Decor & More