Ever since I launched my Small Space Project back in January, the master closet has been inching toward the top of my list.    It really doesn't fall into a "small" space category, but it was in desperate need of reorganization, and was growing fangs from weeks of me sticking things in there to be dealt with later.
I'm blessed to have lots of hanging space, shelves and even drawers in my master closet, so the state of disarray was inexcusable… and driving me crazy.  I immersed myself in there for an afternoon and got things back in order.  This was truly one of those — oh-I'll-just-do-a-quick-rearrange that took on a life of it's own.  See for yourself…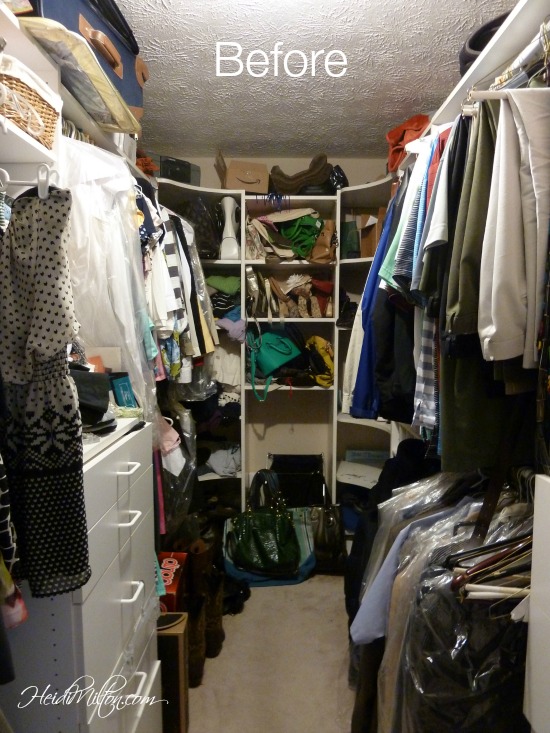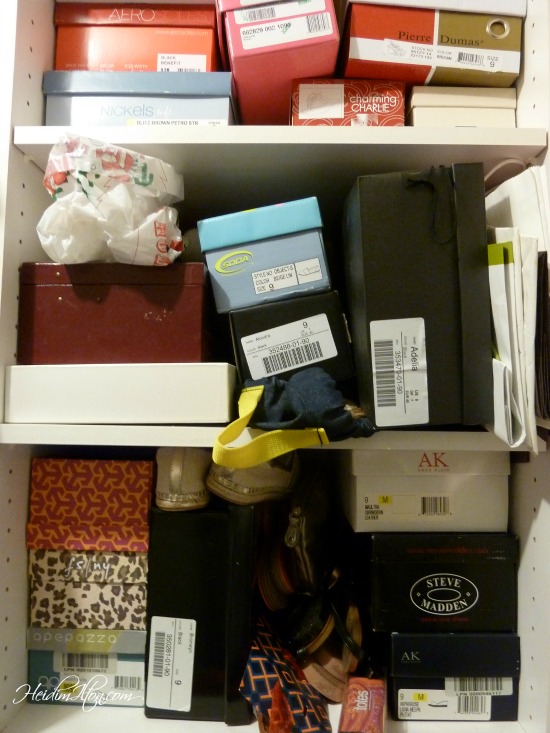 Finding my favorite shoes was becoming a challenge…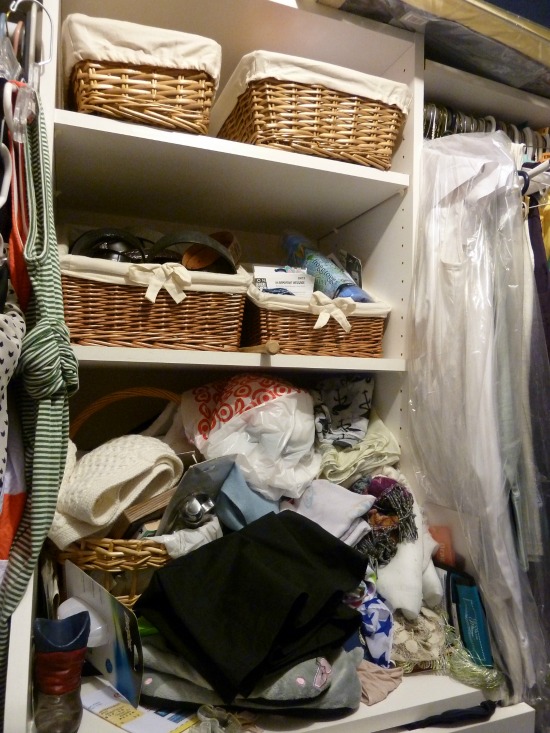 And this was just down right embarrassing.
It might not look so bad, but once I started the PURGE… holy smokes.  I was in there for hours tackling the visible spaces, namely the shelves and hanging spaces.  And I was merciless.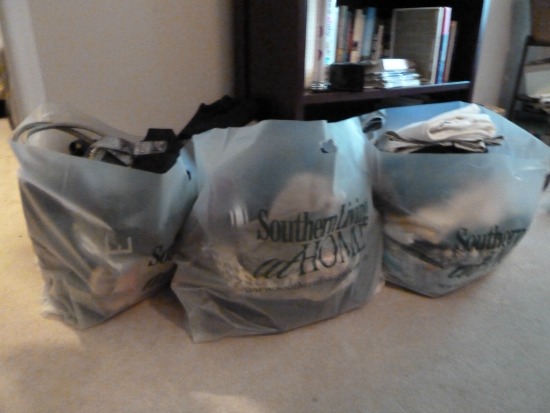 Three ginormous bags of clothes, shoes, purses all ready for my charity pick up later that week.  Boy, did that feel GOOD!
I did some thinking about the things I look for most often and can't find in my closet… my favorite shoes, neutral tops, that certain pair of pants.  And from there, I reorganized.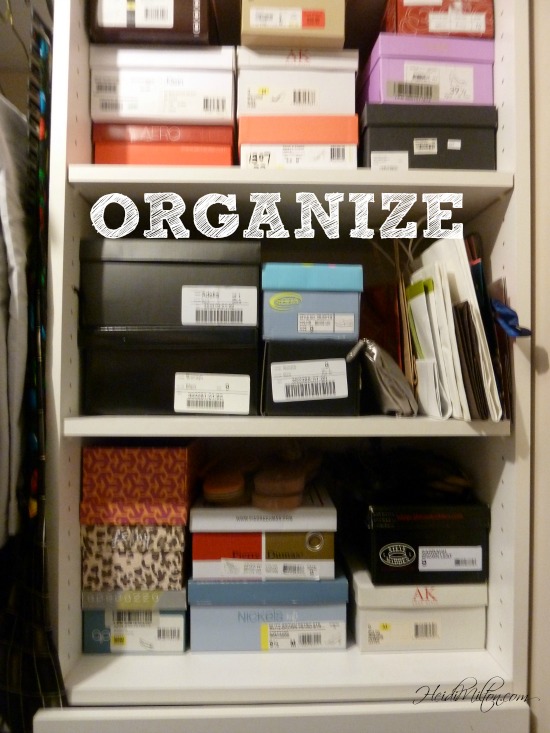 All my favorite shoes are readily accessible, with the ones I wear less often (like dressy shoes) up on the top shelves.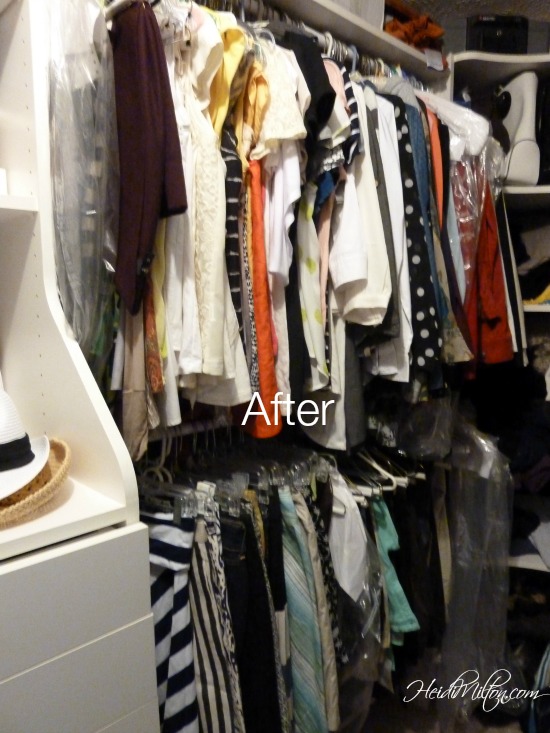 My hanging clothes are now organized: short sleeved to long sleeved, neutral to pattern,  skirts to shorts to pants.  All my white and cream tops are together, all my dark pants are together — nothing is buried in a tangle of dry cleaning bags and empty hangers any more!  Woo hoo!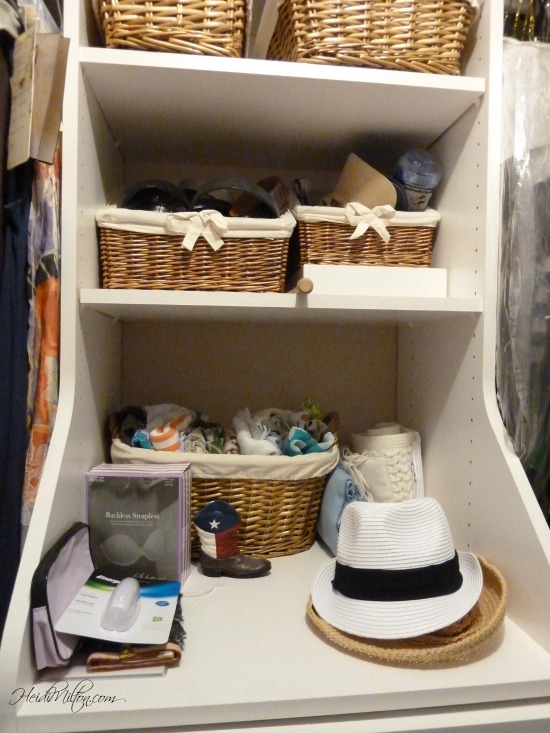 I have dreams of turning this space into my jewelry storage, but for now, the baskets have been purged and reorganized, holding scarves, belts, and hats.
Last week I wrote a post for Mohawk on my Three Step Process for tackling this project.  Click HERE to read the post!  There will be a part 2 to this closet, but it's safe to say it's about 75% organized now.  Success!
Ok, share, y'all… what have you reorganized lately?