Last week we celebrated our preschoolers' moms with a Cupcakes and Coffee spread.  This event is a lot of work, but the kids and the moms love it so much, I always feel that it is completely worth it!   So I thought you might enjoy a sneak peek of my "other" job…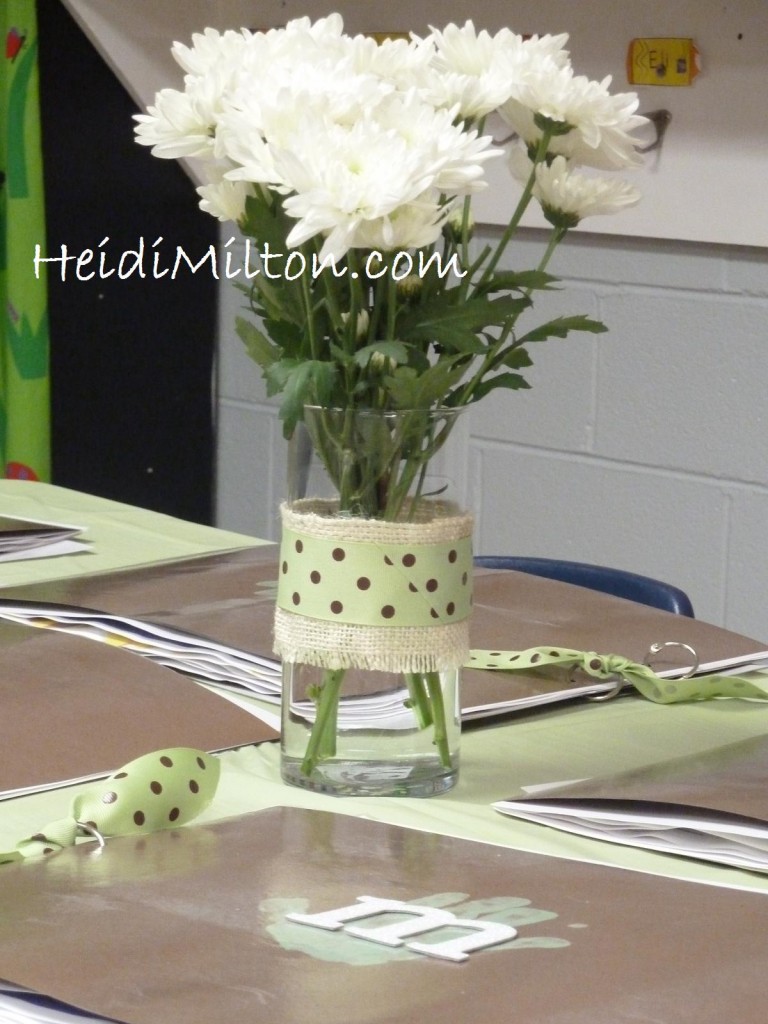 The tables are decorated with the children's gifts for mom:  scrapbooks of art collected over the entire year!  We save one project each month, then mount them and compile these…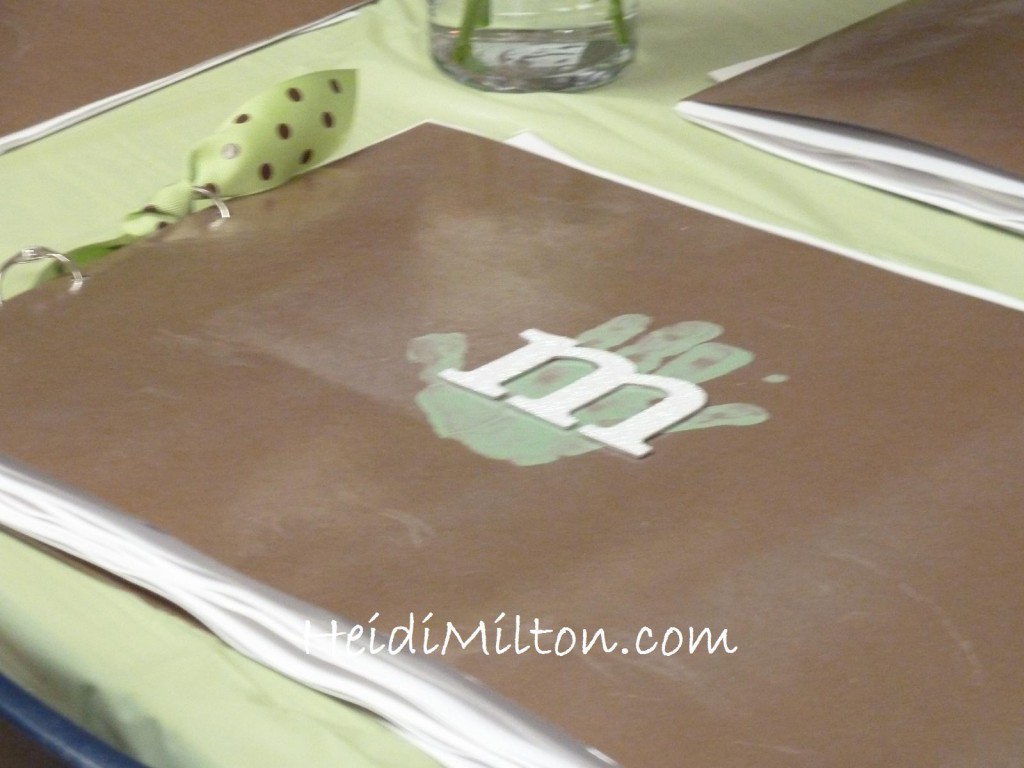 The cover has their little hand print and a chip board first initial.  I love the way these look. 🙂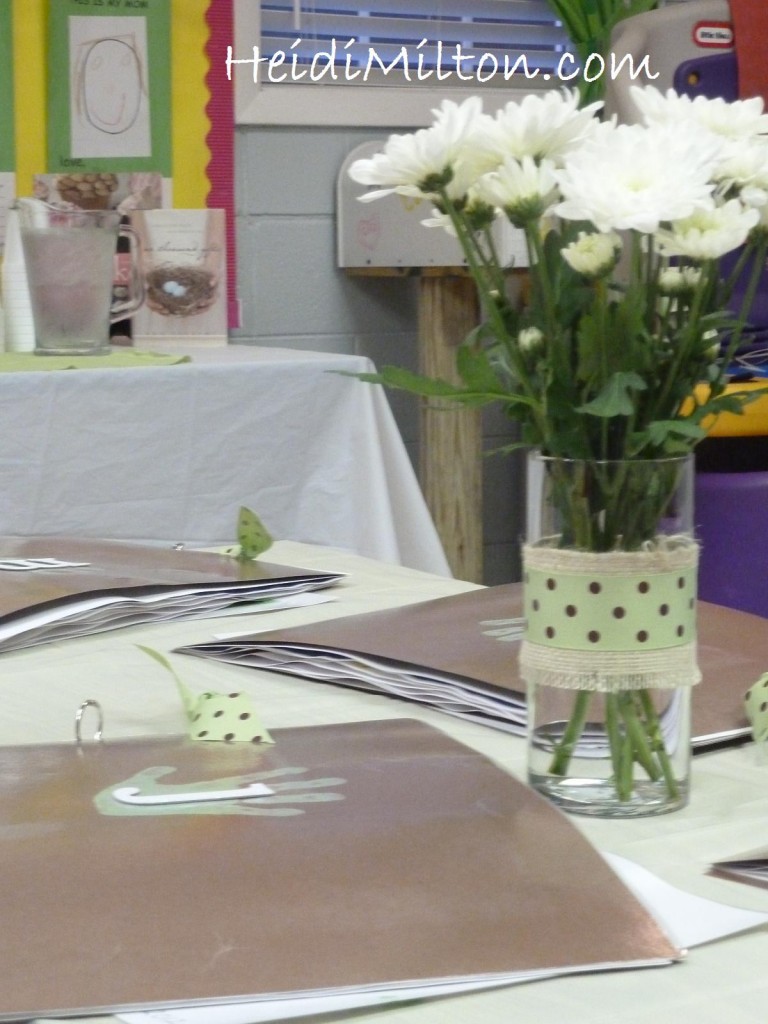 And no table is complete without a centerpiece… so I crafted these vases and added simple white blooms.  These are also door prizes, because what's a party without party favors?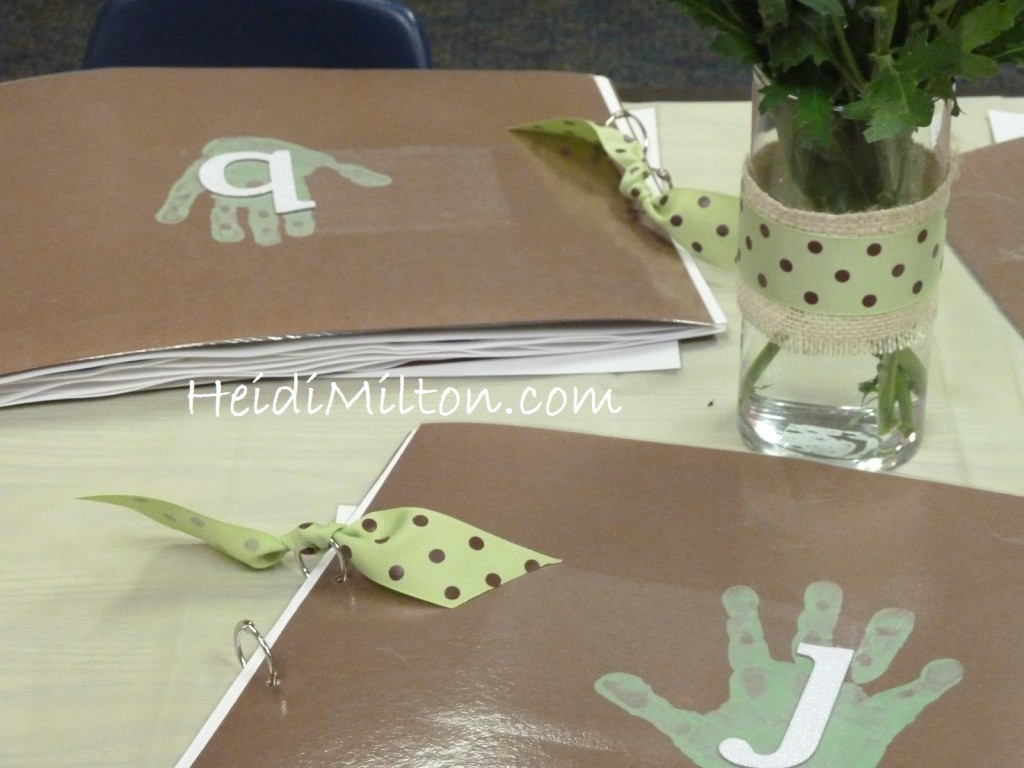 I use my favorite color scheme: brown, celery green, and white.  Preschool classrooms can look so hectic with all the bright colors, so I prefer to keep it simple and elegant (or as elegant as you can get in a preschool classroom).  All geared to make our moms feel special. 🙂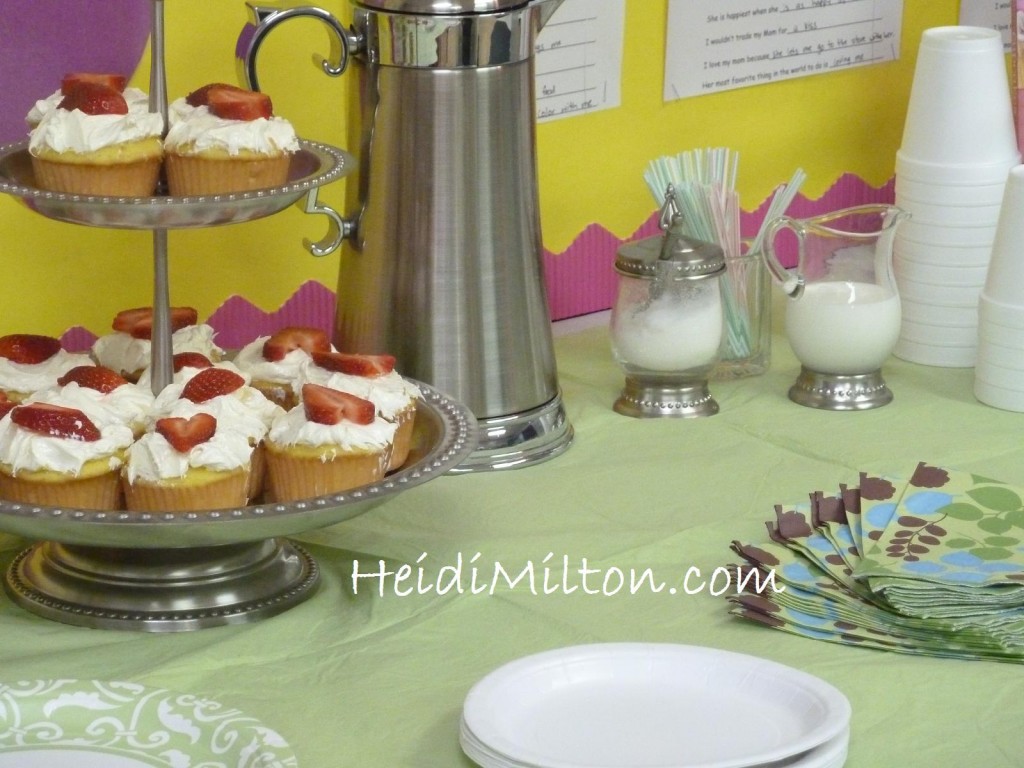 And, here's our spread… lemon cupcakes with cream cheese frosting and fresh strawberries… and coffee.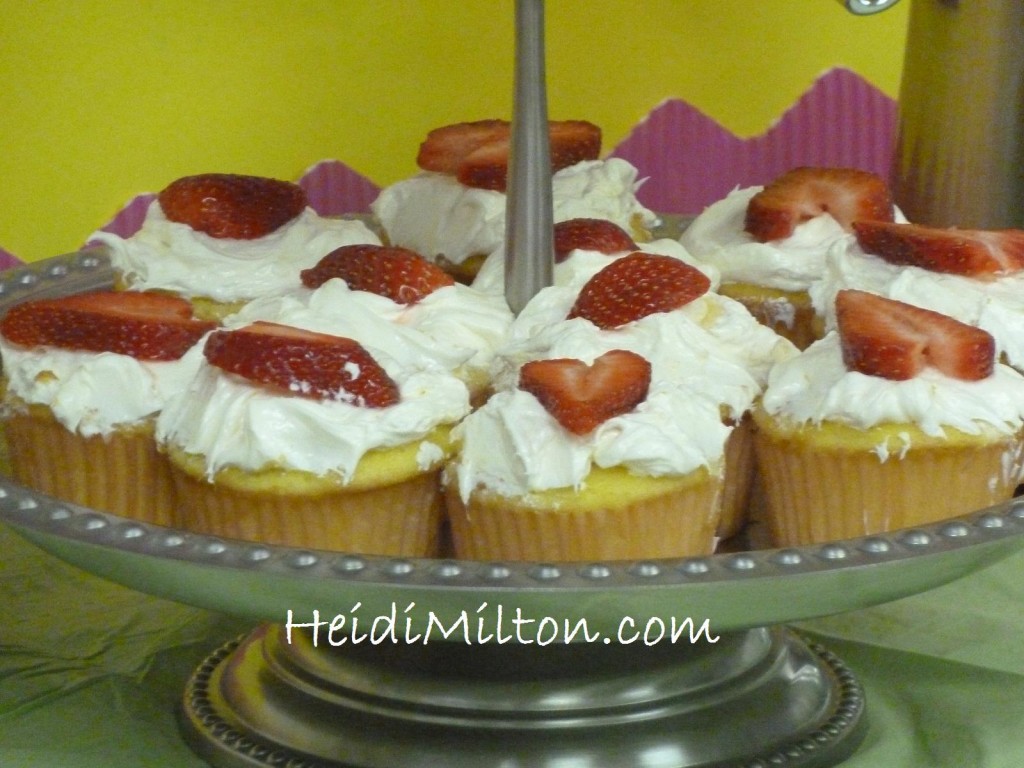 Yummy.  You have no idea how I had to beat my Big People off of these at home. 🙂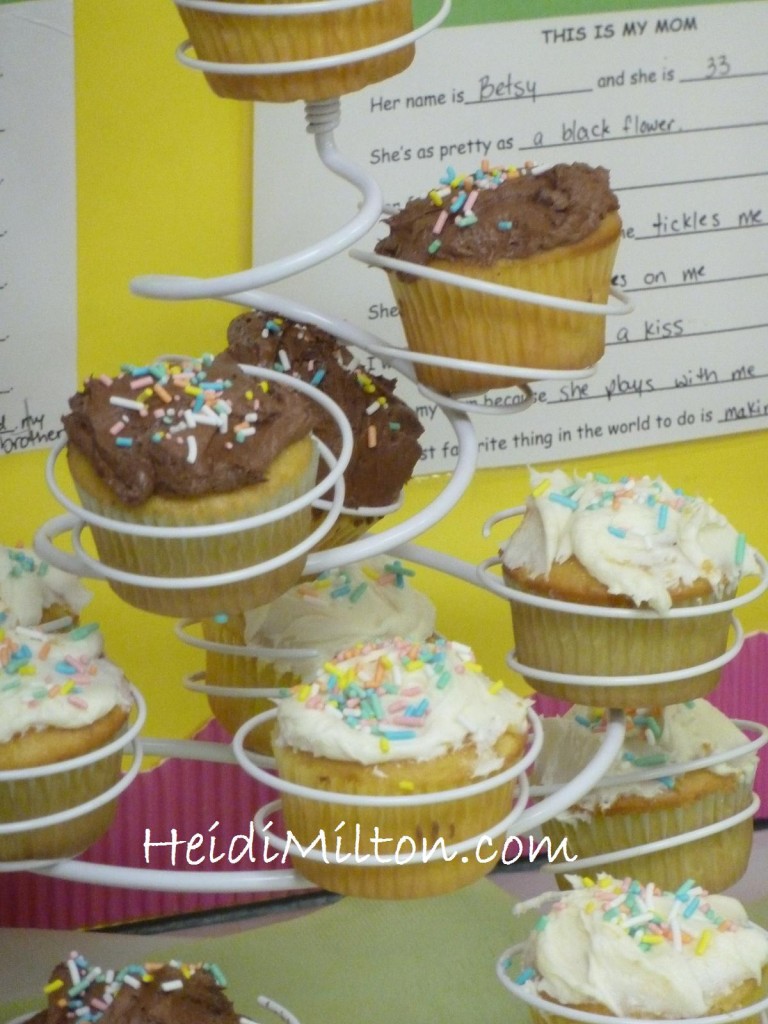 And for the kiddos, frosting with sprinkles on simple yellow cupcakes.  Breakfast of champions. 🙂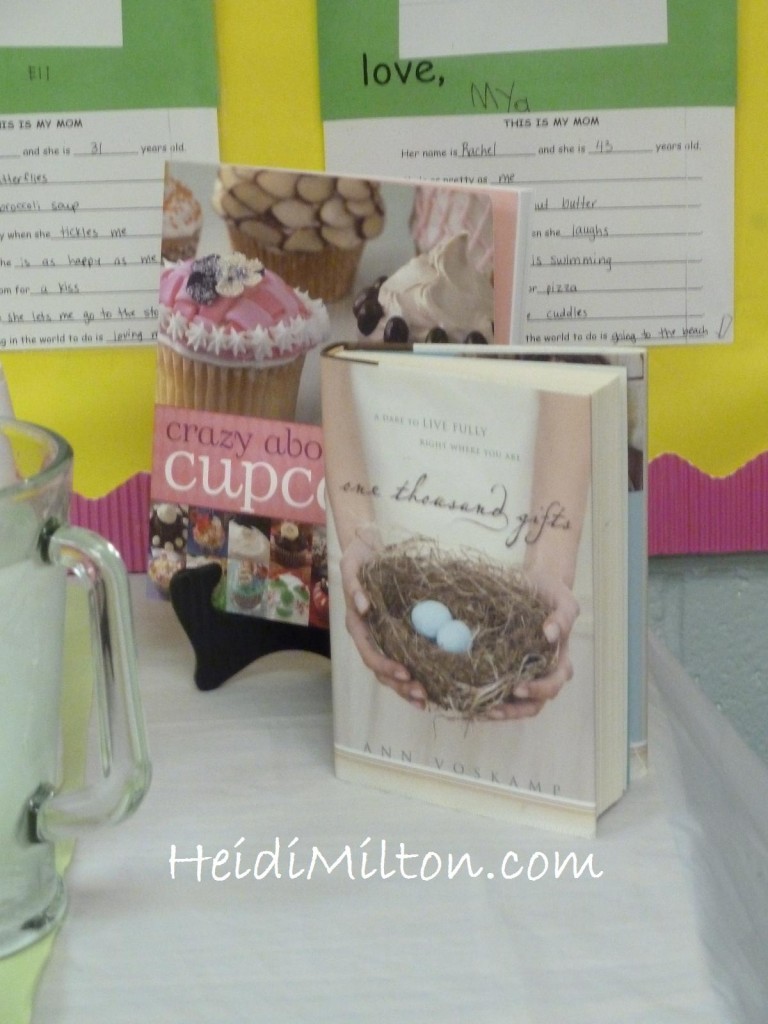 Every year I say a few words to my moms as a group.
This year was hard.  It has by far been my toughest year yet of being a mom.  Don't you think when your children are 25, 23, 19, 17, and 13 you'd have some smooth sailing?  Though there's been moments of that this year, it's been a year of rough seas, too… graduations, college, heartbreaking losses of loved ones, difficult choices, teenage boys that need me more than they want me.
So I shared Ann's book, One Thousand Gifts, with them.  It's been my lifeline, my go-to for a year and half now.  And I thought these moms of Little Ones could use a handbook for their own rough seas ahead.
"Don't ask to borrow my copy," I told them, showing them the underlined passages, dog-earred pages, highlighted paragraphs.  "I won't part with it.  And you won't either, once you have your own."
And that, friends, is a peek at my day job… at least for another two weeks. 🙂
Thought I'd share…
Hoping you all had a blessed Mother's Day!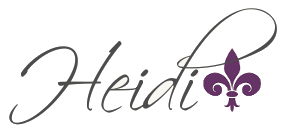 &copy Copyright 2012
Heidi
, All rights Reserved. Written For:
Decor & More