Thanksgiving week!!  Yikes, so much to do… our family has been going 90 to nothing and my to-do list is a long one.  We're traveling for Turkey Day, but will be back for the weekend and I fully intend to get my Christmas on then — unless I get a wild hare and start now??
One of the challenges for me this time of year is feeding my crowd without breaking the bank or spending hours in the kitchen. Because there's always a shortage of time and money, isn't there?   I'm sharing today a super easy baked spaghetti recipe that fits that bill perfectly… and if you're lucky enough to have leftovers, those are a hit as well. 🙂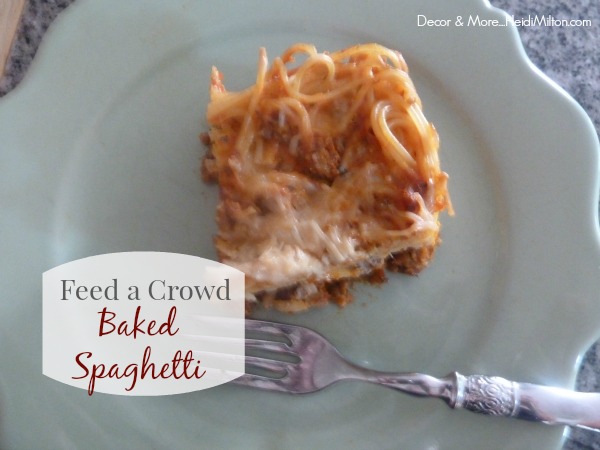 What you need:
1 lb ground meat (beef, pork, or turkey)
1 jar prepared spaghetti sauce (we prefer Prego Traditional)
2 cloves garlic, minced
2 tsp Italian Seasonings
1 lb spaghetti
2 eggs
2 cups shredded mozarella
1 cup shredded parmesan
What you do:
Grease 9 x 13 baking dish and preheat oven to 350 degrees.  In a large sauce pan, brown your ground meat.   At the same time, cook spaghetti in a stock pot.  Drain your meat and then add spaghetti sauce, garlic, and Italian seasonings.  Heat through, stirring frequently.  When the spaghetti is cooked, drain and return to stock pot.  Beat eggs and pour over spaghetti noodles, mixing thoroughly.  Add one cup of mozarella, all of the parmesan, and about 1/2 cup of your sauce mix to the noodles and mix well.
Cover the bottom of your baking dish with a generous layer of your sauce mix.  Use most of it!  Top that off with your pasta mix.  Your dish will be full!  Add the remainder of your sauce mix on top, along with the rest of the mozarella cheese.  Pop into your oven for 40-45 minutes.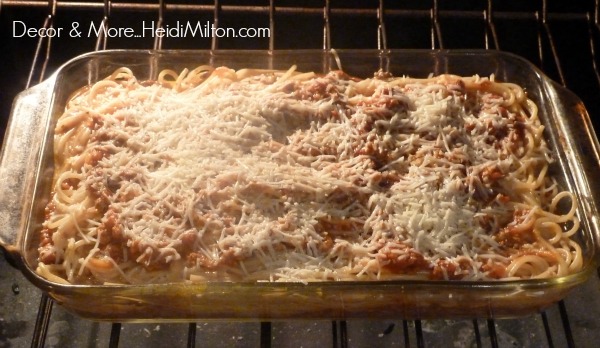 Let stand for 10-15 minutes before serving.  It cuts easily into serving size pieces with a metal spatula.   I serve mine with garlic bread and a green salad… perfect to feed your crowd!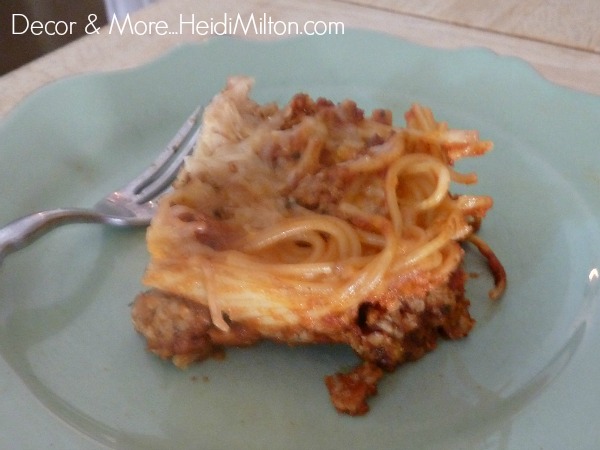 I always enjoy a bit for lunch the next day… provided there's any left.  I lucked out last time…
So there you go — an easy and affordable way to feed your crowd!  Here are some of my other Feed A Crowd meals…
Feed a Crowd: Beef Vegetable Soup
Feed a Crowd: Roasted Chicken & Potatoes
What's on your list today??  Shopping, cooking, decorating?  Whatever it is, enjoy!