Happy Monday, y'all!  We're supposed to be back at work today, but the frigid temps and flurries prompted an optional work day… woo hoo!  Maybe I'll actually get my Christmas decor put away today.
Anyhoo, I made the mistake of pulling up my Home Goals 2013 post yesterday and actually laughed out loud!  Clearly, I need to revisit the goals list throughout the year so I don't fall prey to Home Projects ADD and flit from one thing to another with no regard for the goals/plans.  Just saying…  I completed a whopping 17% of my goals, that 17% being my guest room makeover (which still makes me do a happy dance, actually).
Sadly, all those other goals that didn't get met are still on the top of my list to achieve.  And I've got a few more that have cropped up, so I've revised the list for 2014.  Let's try this again!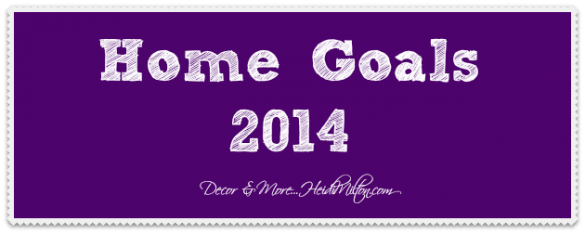 1.  Drapes for the Family Room.  Really?  Such a simple thing, but it's remained elusive.  I think I've finally drilled down on the look I want so these babies won't be bare for too long!
Check out my Pinterest board for drapes that are inspiring me!
2.  Drapes for the guest room.   Yes, that cute space is still without drapes, too, and I've been all over the place regarding what I want to do.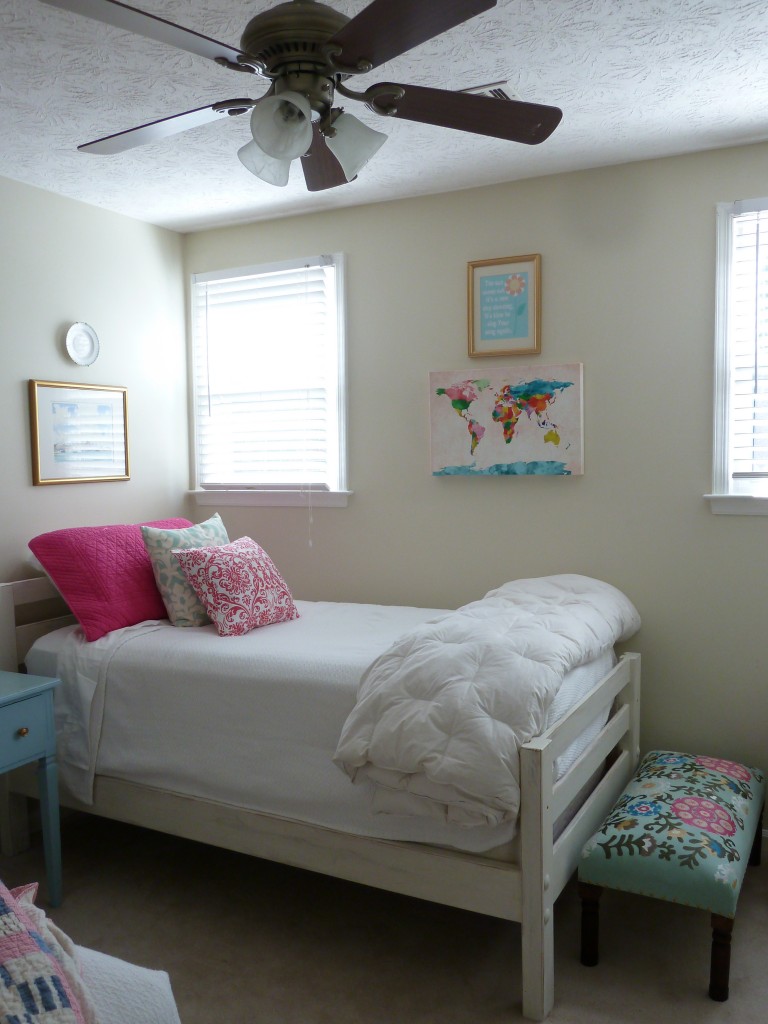 I've considered some roman shades since the windows are smaller and high, but I think I'd prefer a softer drape.  Again, a simple thing that's fallen off my radar.  I'm a 90% girl for the most part when it comes to projects… boo.
3.  Laundry Room Makeover.  Ok, what's been holding this up has been partly a function of time the room would have to be out of commission (or on limited functionality) and I've yet to get the handyman over to assess this, but my plans have stayed the same.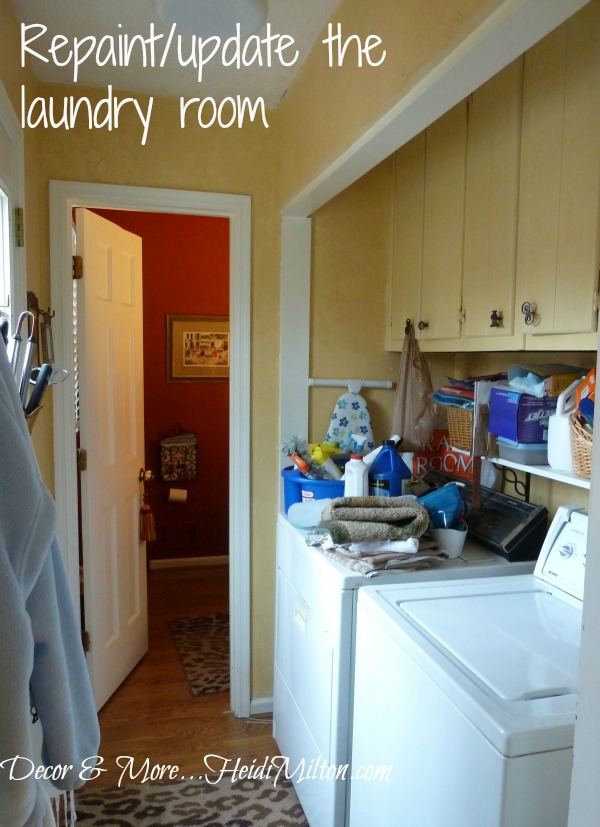 I'd like to remove that header and open up the space completely, de-popcorn and paint the ceiling,  remove the cabinet doors or take them down and replace with open shelving, put in a new light fixture and repaint the space to match my adjacent kitchen.  This is the hardest working 60 square feet in our house!  You can imagine… #teenagers #5kids
So those are my top three goals for the year.  Now here are a few more that I hope to chip away at as time and funds allow…
4.  Repair our backyard fence and address growing sinkholes in our backyard.  The fence shouldn't be a huge deal and will hopefully be something we'll attempt ourselves to cut costs.  The sinkholes??  Ugh.  They're not anything really scary, but they definitely will need to be addressed professionally in the coming months.  Our backyard was apparently a bit of a dumping ground when the house was built 30 years ago and now it's all coming home to roost.  I see a small retaining wall or two in our future.
5.  Carve out a craft space for myself in the basement game room.  The whole room is slated for repainting and reorganizing this year, so I hope to use a small corner to set up a craft and project space for myself in the process.  This might end up being a more extensive project, but we'll have to see how the funds hold out.  Check out my craft space Pinterest board for some awesome inspiration!
6.  Get organized, one small space at a time.  I'll be doing a whole post on this soon, as it's something I've been mulling over for a while.  Have you ever noticed how your small spaces — drawers, shelves, under the sink cabinets, linen closets — can make or break your home organization?  In this quirky old house, every space counts, so it's time I address them — one small space at a time.
And that's it!  My plan is to revisit these goals quarterly and hopefully that will keep me more on track.  The actual project list is waaaayyyy longer than this, but for the purpose of goal-setting it seems wiser to pare it down to what is/should be manageable.
Then again, I think I said that last year… :-).
Okay, your turn!  What's are your home goals this year?  One big one or several smaller ones?  Spill it!