It's the proverbial One Thing Leads to Another, y'all.  Once I repainted my family room and put my summer mantel in place, my built in bookshelves were just crying out for a fresh look, too.  What about MEEEeeeee???  they were saying.  And since a student of mine last year ruined that phrase for me, I had to act.  #donteverwanttohearthatagain
If you follow me on Instagram, you got a peek or two at the process.  And it is, indeed, a process.  One that takes several days, even weeks in this case, to get the right mix.  Today, you get a look at the state of things now… subject to change, of course, but I would say it's 95% where I want it to be.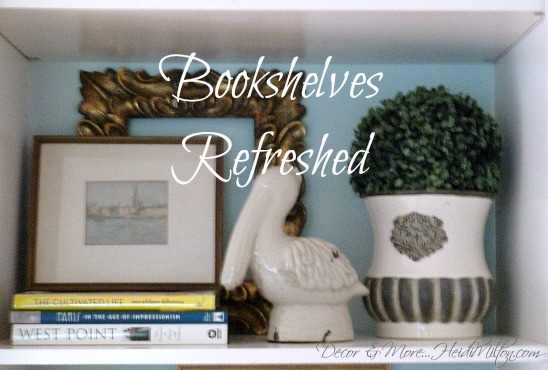 Ready?  Lots of photos coming…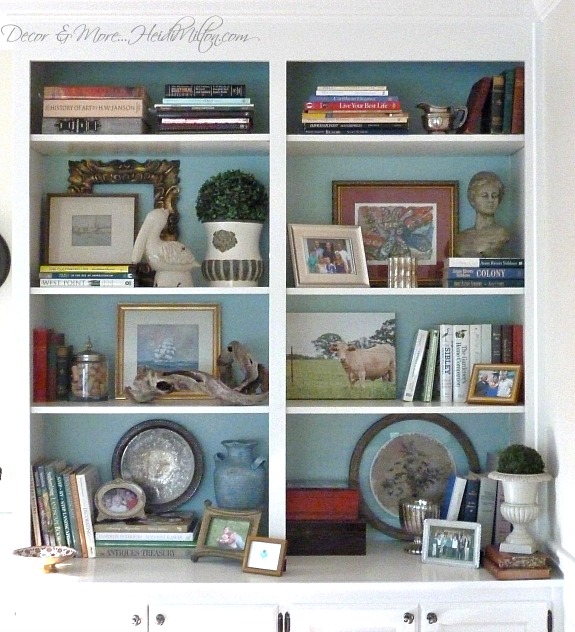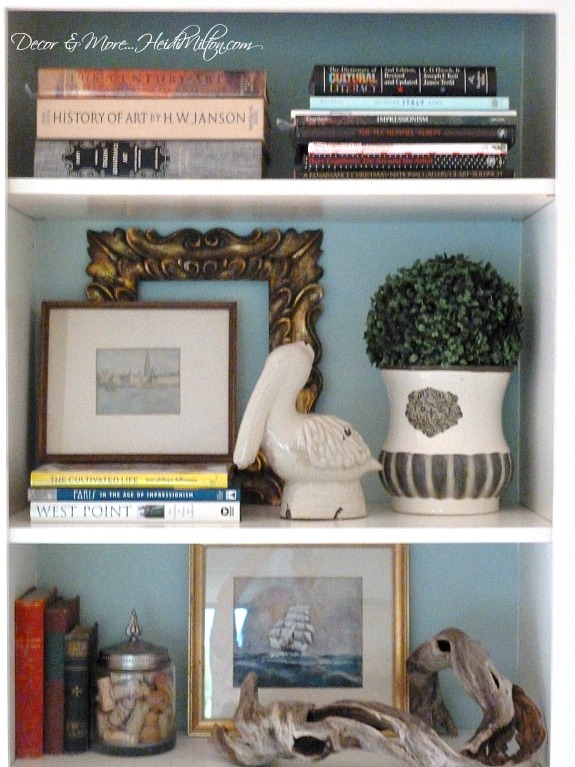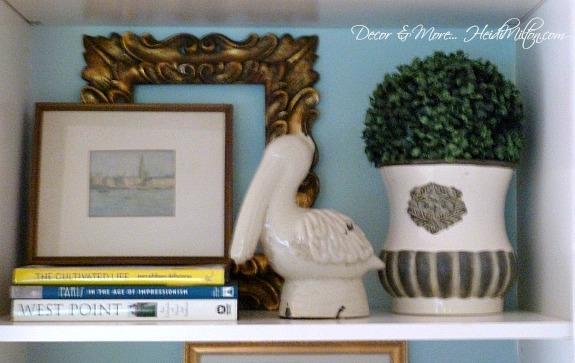 The pelican is a Joss & Main find… love a touch of whimsy here and there.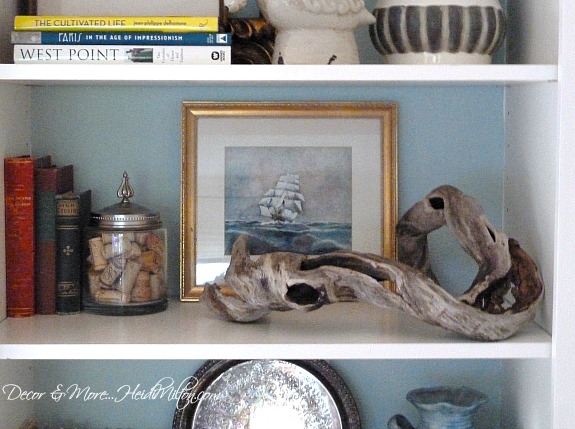 This driftwood piece continues to amaze me.  Love it, love it love it.  The tall ship painting was done by my great grandmother.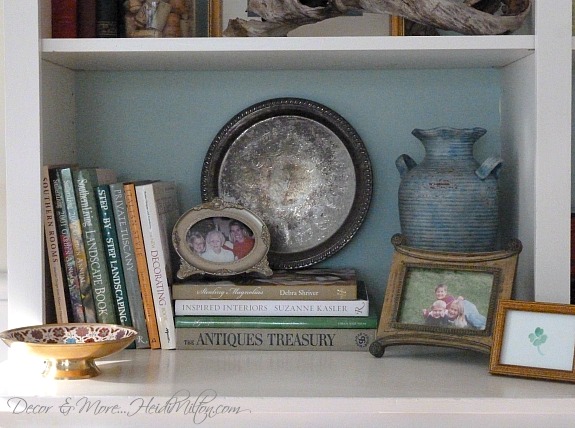 The silver tray is a thrifted piece — monogrammed with an "M", no less!  I started to polish it up, but I ended up just buffing it a bit instead and like the somewhat tarnished look.  For the watercolor shamrock DIY click here.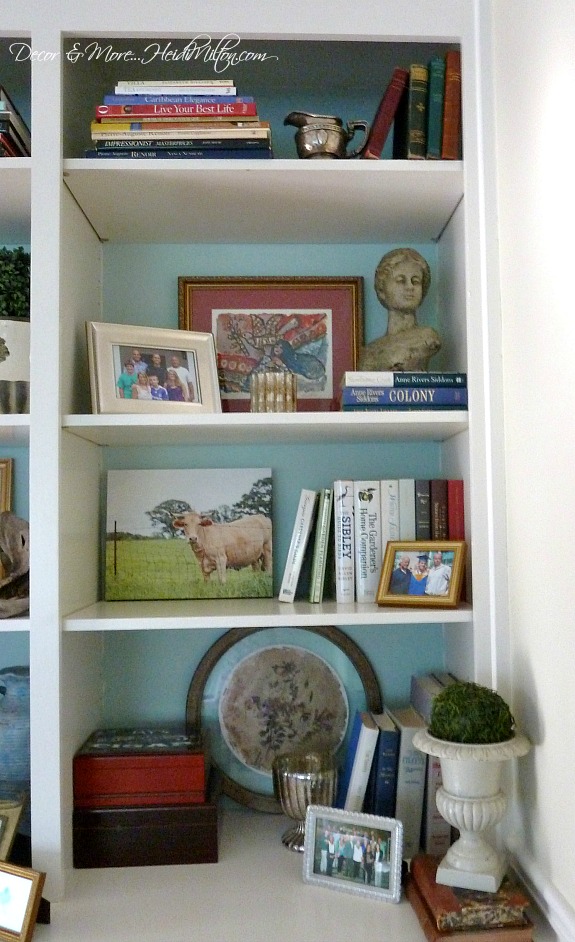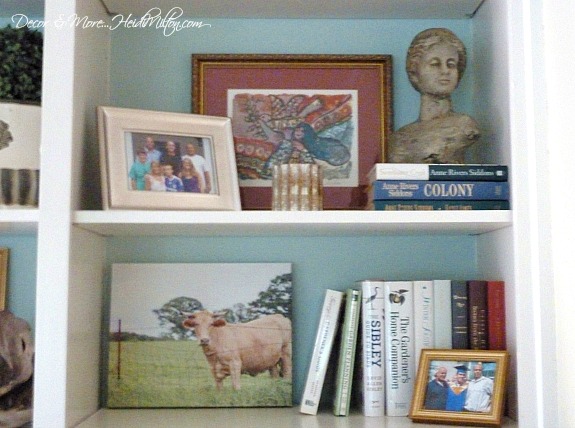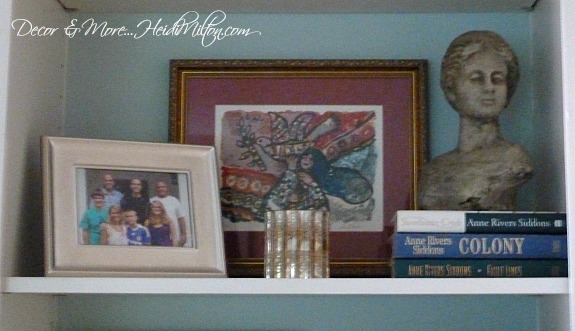 The abstract painting was one of my first original art purchases from a Phoenix, AZ art gallery.  It was an "outside the box" purchase for me, but I still love it.  Just fun and colorful.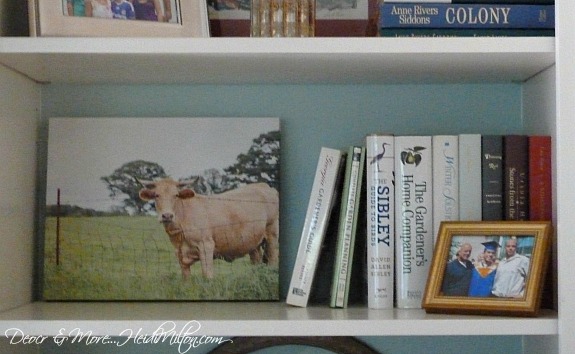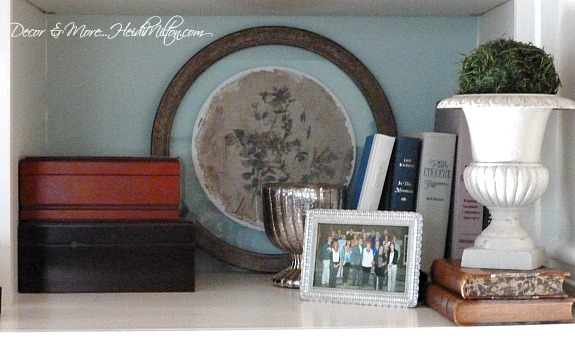 While I like the round framed vintage floral, I'm thinking a pretty mirror back there would be better… it's the darkest corner of the family room, so I'd like it capture a little more light.  The stacked boxes are actually the hub's humidors.  Non-negotiable, so I tucked them there.  Not too bad looking.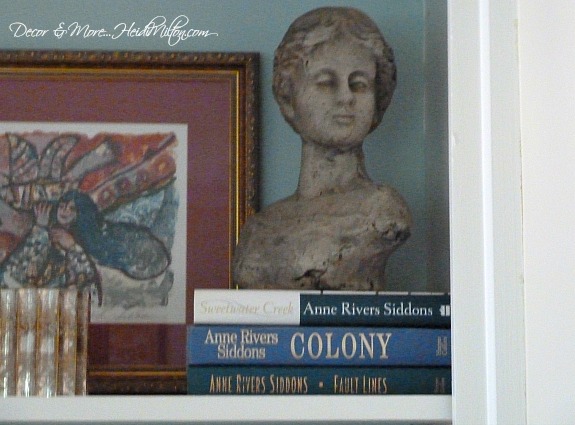 This bust was purchased from Joss & Main with the intention of using her for jewelry storage.  I like her better here.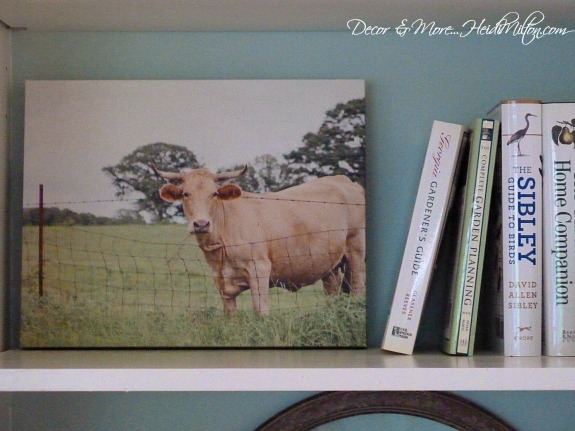 The cow canvas above is a new favorite.  It's called Sweet Melissa and it's by the lovely Paige Knudsen.
You probably see a common thing… lots of layering, grouping books by color, mix of textures.  I tried to keep it interesting without looking cluttered, which is a challenge for me!   The very top shelves need to be simplified a bit, so that might change soon.  If you have questions about other items you see, leave them in the comments… I'm always happy to share!
Thanks so much for all your sweet comments about my foot injury… after the radiologist read the x-rays (there wasn't one present on Saturday to read them accurately), they determined there is a fracture.  I'll be seeing the orthopedic soon to see what's next.  In the meantime, I'm getting around a little better and it's not too painful as long as I rest, elevate, and ice it at regular intervals.  I figure that gives me a chance to catch up on some blog reading and some housekeeping for this space, right?  Looking for the bright side… that's how I roll. 🙂
Enjoy your day!