Ah, we're still enjoying the last vestiges of snow here, but I'm quite sure it will all be gone by this afternoon.  It was beautiful while it lasted and traffic has resumed some semblance of normalcy after Tuesday's debacle.  While there was lots of Monday morning quarterbacking going on, I'm just hoping our city and county leaders have learned some things and we can all move forward.  I'm still camping out on the all the neighbors helping neighbors helping strangers stories.  That's just how I'm choosing to roll. 🙂
Ok, so to update you on my Small Space Project!
I have dipped my toe into the waters of organization — yay!  I've got two small spaces to share with you today and am tackling a couple more this weekend.  Let's just suffice to say, I will be making a run to the nearest donation center once the ice thaws off my driveway!
I started simple, with the one space my family and I look at every. single. day.  The bottom shelf of our coffee table.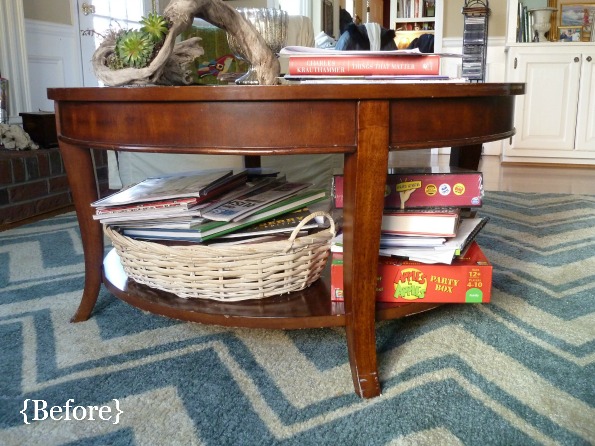 Because I like to see the top of the coffee table clear, I often start piling up stuff underneath.  Yes, I'm a piler.  Anyhoo, when I pulled everything off, much of it was recyclable papers and old magazines and catalogs from right before the holidays.  The board games got put away properly and then things were looking up.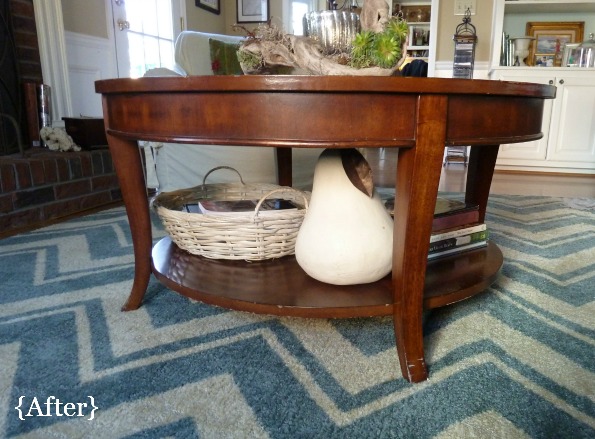 Ahhh.  Much better.  And I think this took me about 20 minutes, tops.
And then, with all this cold weather and my tea-drinking in full swing, this space was driving me crazy, slowly but surely.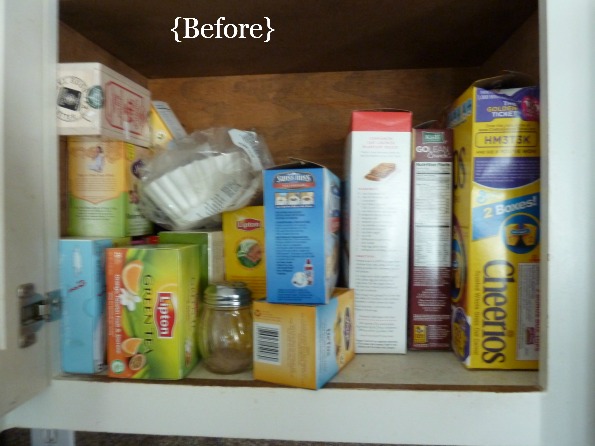 This is our cabinet right above our coffee maker and to the left of our stove… breakfast and beverage central.  And you can see how many different types of tea I love to have on hand. 🙂
So I sprung for this simple shelf set at Walmart ($5).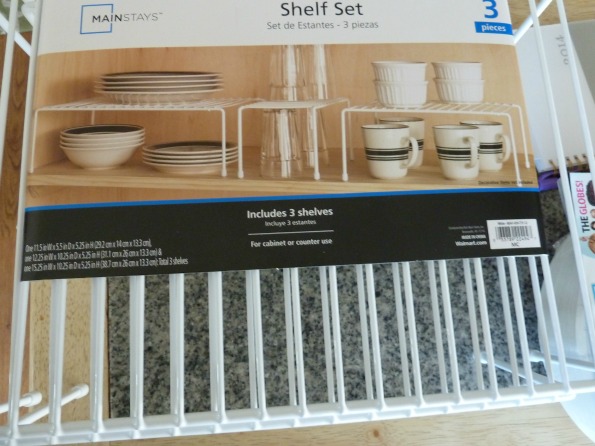 It's three shelves of different sizes, and with so many other cabinets waiting to be organized, I knew all of these would eventually get used.  I chose the medium sized shelf for this space, so my big cereal boxes could still fit.  The hubs would have a fit if I relocated his Cheerios. 🙂
And here's what we're enjoying now…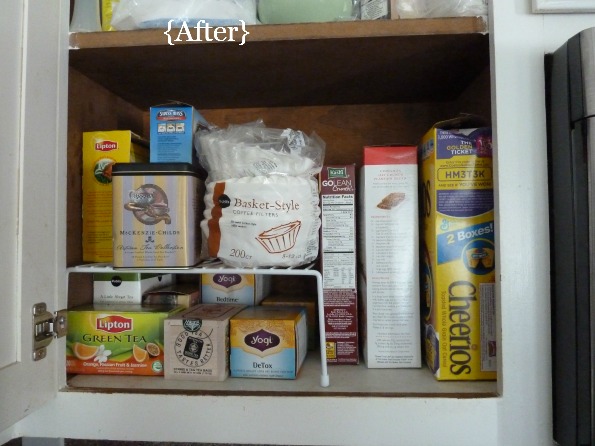 A much happier sight first thing on the morning!
I'm working away on more to share… don't forget, I'd love to share your small space organization project, too!  Simply email before and after photos to me at heidimilton at comcast dot net, with the subject "small space project" and a link to your blog if you have one.  Let's celebrate the beginning of the end of chaos!
TGIF, friends — we're looking forward to catching up with some old friends for dinner plus getting back to the gym and a couple of paint projects.  The Big Kids are looking for major tailgate food for the Super Bowl, so I'll be in the kitchen a bit, too.  Don't forget to give my Buffalo Chicken Dip a whirl — it was at the top of their list!
Enjoy!