Holy smokes, y'all… tomorrow is November!    Yowza!  If you follow me on Instagram, you know I had a busy week with the Little Ones — Halloween is so much fun for them I always feel like I'm along for their ride, at least for a couple of days. 🙂
Anyway, I enjoyed sharing a little randomness last Friday, so I'm thinking every so often I'll offer up a Five on Friday post, just for fun.   I've been back on my painting and DIY'ing horse this past week, so I'll have some new projects to share soon.   After all, after today, it's headlong into the holidays!
1.  Thanksgiving tablescapes.  I see some gorgeous spreads on blogs and Pinterest.  Truth be told, we always celebrate Thanksgiving at my mother-in-law's, and she's not big on a tablescape.  But I'm thinking I'll come up with something palatable for her this year… just for fun!  It will have to be simple, something that won't upstage all her china and crystal.  Something like this…
2.   A mantel tweak or two… because sometimes you just need to. 🙂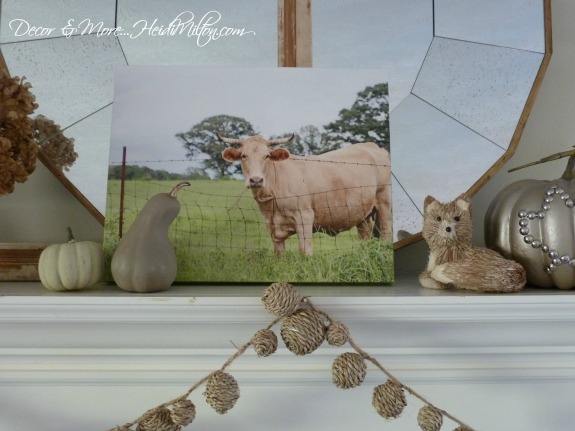 Can you spot the new addition(s)?
I mean, I couldn't leave him languishing on the shelves of Target, now could I??  For my original mantel post click HERE.
3.  My new favorite jeggings.  Y'all.  I bought these at the American Eagle Outfitters outlet when we were away a few weeks ago.  Their stretch low-rise sueded jeggings are to. die. for.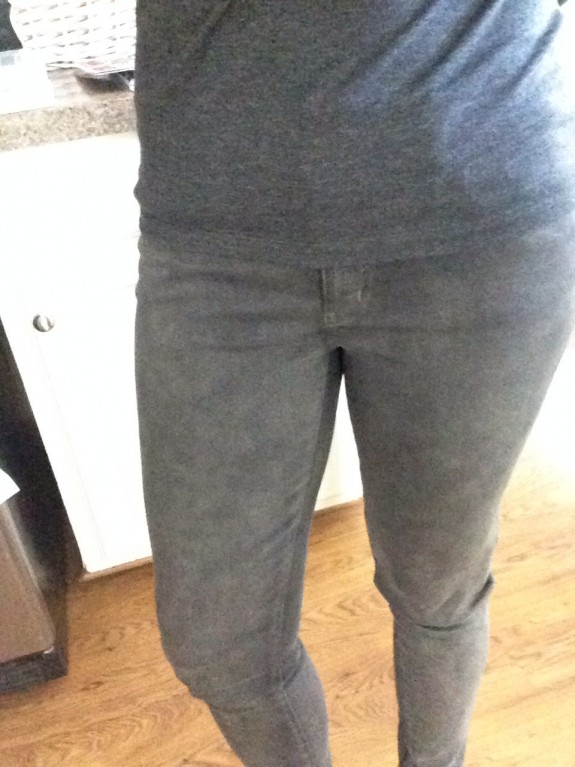 This is the smoky gray color and I Looooooooovvvvvvveeee them.  These will be part of my "fall uniform" if you get my drift.  I may have to snag another color or two and everything on their site is 31% off  and free shipping with code SOSPOOKY through today.  The sueded finish is on the "X" jeggings, not their regular jeggings, though I bet those fit just as well.  And they've got new colors in a higher rise X jegging, so if you don't like the low rise these would be worth a try.  Honestly, I didn't find the low rise to be all that low, but maybe that's just me. 🙂
4.  More than just mantel tweaks and gallery wall updates going on… I've been on a mission to find a round or oval side table to go underneath the big picture window in my family room.  I had a lower end table there and it just didn't feel right.  So last weekend I spotted this little gem and snapped her up.
Oh my word, how I love her scalloped edge top and turned legs!  I initially was thinking I could paint her, because I wasn't sure about the tone of the wood finish, but now that she's plugged in, I think she's wonderful as is.  And the top is in fantastic shape.  Not bad for $52, right?  Stay tuned to see her styled.
5.  My Country Living finds!  I neglected to show you what I came home with last weekend, so here's a quick shot of the smaller things.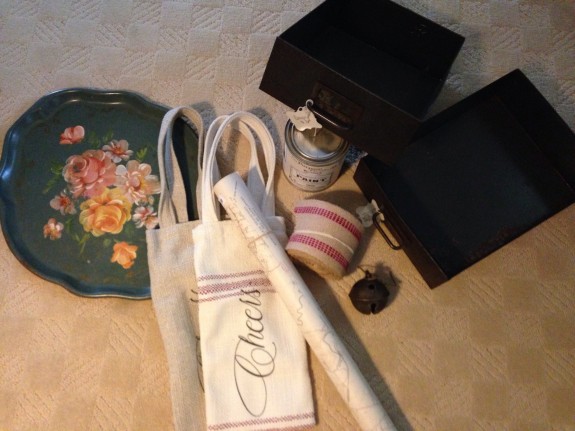 Clockwise from top left: vintage painted metal tray (love the colors, great condition), two vintage metal drawers (great for organization or display in my booth), a can of Cari Cucksey's new paint line, a large vintage brass jingle bell (can't wait to decorate with THIS!), roll of wide upholstery type ribbon (lots of ideas here), a 1940 geological survey of North Georgia (frame worthy), and two grainsack wine bags for holiday gifts.
Not shown: 3 framed vintage botanicals, and some unfinished wood frames waiting for paint, and a collection of business card size bird prints (I'm thinking a collage of some type)!
So how did I do??
Busy day today — I'm in search of 2 or 4 chairs to help stage a dining table in my booth for the holidays, I need to pick up a pumpkin and Halloween candy (better late than never!) and I have new post for Mohawk Homescapes I'm working on.  Oh, and whipping up a Whole30 crockpot beef stew we can enjoy this weekend.  The temps have finally plunged here and I'm ready for soups, boots, throw blankets and a fire in my fireplace!  And some college football. #WarEagle #GigemAggies #GoDawgs
Hope you have a spooktacular weekend, friends!