Sometimes the right words are just put before you.  Isn't God so good that way?
Like last fall, when I accepted an invitation to join the blogging ranks for (in)Mercy in my quest to make this space count.   And I told the story of my mom's illness while traveling in Kenya.  And how I now had the opportunity to, in turn, make a difference for some special girls in that country.
And how I read with amazement that we had FAR exceeded our fund-raising goals for that very special place, Mercy House Kenya, in an incredibly short period of time.  I learned that most people have a heart to help.  They just don't know what to do or where to start.  Because when you ask or point them in right direction, their hearts take over and they step in and step up.
And as the months have ticked by since last fall, I have myself searching for other ways to help.  Other ways to make my words count for something, my dollars count for something, even my own consumerism count for something.  Because, after all, what do our lives amount to if we're not making a difference?
About two months ago, a lovely email popped into my inbox, asking if I'd be willing to use my words once again to share a story.  And without a moment's hesitation I said YES.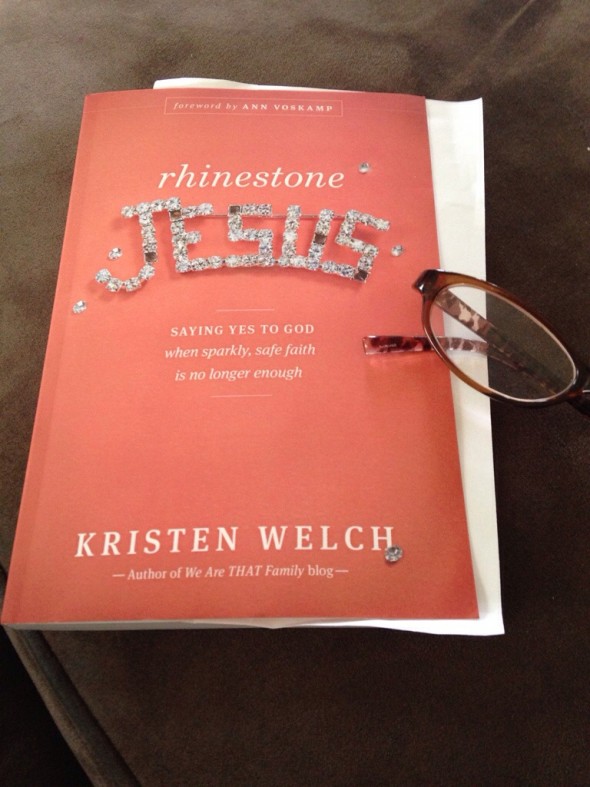 You see, Kristen had written her story ~ and the story of Mercy House and of how she said YES.    And I couldn't wait to read more about her journey from a Christian stay-at-home mom and writer to visionary and president of an international non-profit in the business of saving lives.  And how she said yes.
For the last three weeks, I've been winding my way through her story, beginning with her "good girl" Christian childhood, to a dreamer of enormous God-sized dreams, then on to the grief and loss of those very dreams and her picture-perfect married life, and the painful re-birth of the dreamer she once knew herself to be.  It doesn't normally take me three weeks to read a book of this length.  But I had to… I was dog-earring pages, underlining passages, looking up Bible verses.  I had to let her story soak in, because she wrote it for me.
You see, I long to make a difference — not in a BIG way, per se, but in a MEANINGFUL way.  Trucking through life, raising good kids, living in a nice home, saving money for retirement, taking occasional vacations and decorating my home, teaching littles, loving my husband — all great stuff.  But I need more — more of Jesus in my life.  Like I never have before.   And I've been working on listening to Him and listening for Him.   I read Kristen's recounting of The Day She Woke Up in that slum in Nairobi, and how she began with the word "yes"… and the next morning I read this in my devotional: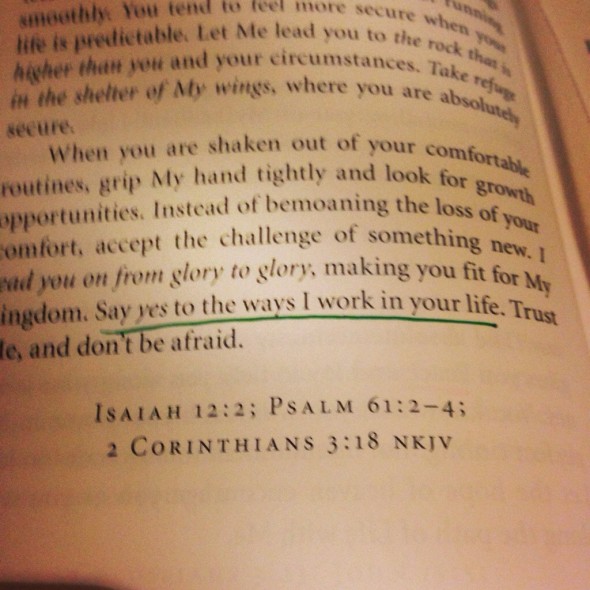 No more excuses.  No more waiting for the "perfect time", because while my timing is never perfect, God's is.    And Kristen walks with you through the suffering, the labor that went into birthing Mercy House Kenya, and ways that God shows up on a regular basis.   She lays out the hard things about doing good and those enemies that challenge her on a regular basis.  And she encourages … Oh, does she encourage!  Encourages us to consider doing one thing, changing one life.
"You might be thinking right now, I will never be a world changer.  But I want to encourage you to change the way you see the power of one action done for someone else.  When it's combined with the power of one big God, your small yes can change the world."  ~ Kristen Welch
Oh, my word.  And then this…
"We aren't called to do big things: we are just called to do something that fulfills this command:  Love God.  Love others." ~ Kristen Welch
We overcomplicate things, don't we?  We're not organized enough, we have so little spare time, would that small thing really make a difference… the enemy is alive and well in those doubts.  But I know this much to be true:  we have to be willing to say "yes", even in the midst of our own mess.     Because YES that small thing really DOES make a difference.  And it's in our own weakness that God's power is made perfect.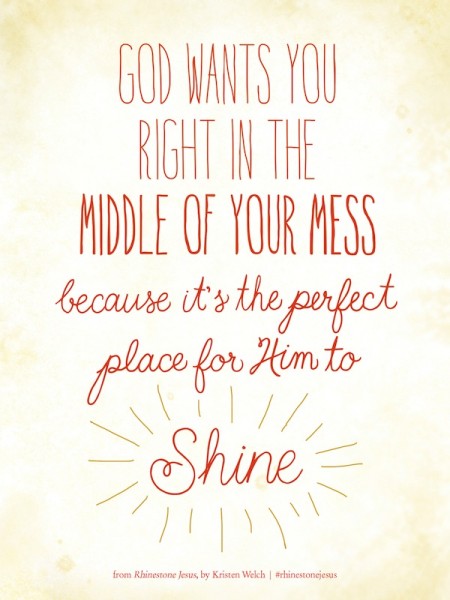 This is a must read, for all of you that want to make it count.  For you whose safe, sparkly faith is no longer enough…
You can also order it at Barnes & Noble, and Christianbook.com.
If you pre-order before midnight tonight, you'll be blessed with some extra goodies…
Just email your receipt to giveaways@tyndale.com.
Are you ready??  Not sure?
You're in luck… I have two copies of Rhinestone Jesus to give away to my readers!  All you have to do is leave a comment on this post, telling me what small yes you might begin with, or what your God-sized dream is.   It will be my honor to place a copy of this book in your hands…it releases on May 1.
Winners will be chosen on May 6th and notified by email.
Be blessed, friends… I can't wait to read about your dreams and "yes's"!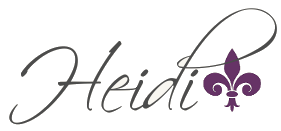 Pin It
&copy Copyright 2014
Heidi
, All rights Reserved. Written For:
Decor & More